A Guide to Biking in Albuquerque, NM
Writers: Heather and Josh Arnold. Photos: Heather Wess Arnold
---
Located in the heart of New Mexico and the Rio Grande River Valley, Albuquerque enjoys a high-desert, temperate climate with over 300 days of sunshine per year. The city's distinctive heritage blends centuries-old Pueblos, tribes, and nations with Spanish influences (circa 1540) and regional styles you won't find anywhere else.
Attractions range from the spectacular International Balloon Fiesta in October to the colorful architecture and commercial districts along Route 66 with an amazing variety of cultural venues. Plus the thrill of touring urban locations from the recent TV series Breaking Bad.
Albuquerque offers an experience by bicycle that is extraordinary: the US city with the most parkland has a plethora of open space, wilderness lands, and over 400 miles (643 km) of beautiful multi-use paths and on-street bicycle facilities.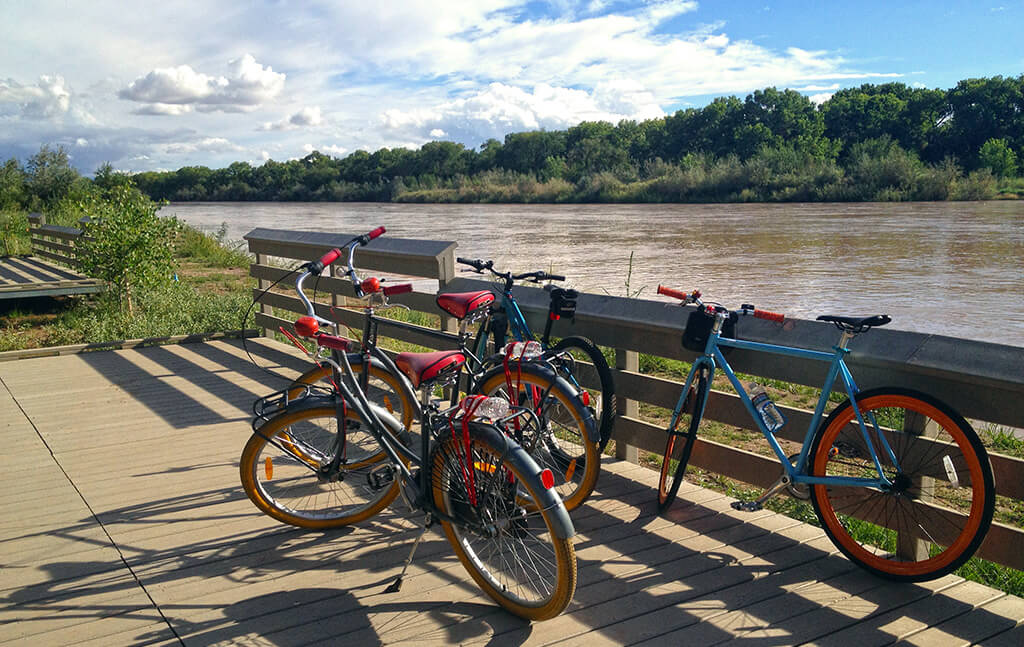 WHERE TO GO
No visit would be complete without a ride along the 16-mile (26 kilometers) Rio Grande River and the Paseo del Bosque Trail. The Bosque (pronounced BOW-S-KAY or BOSS-KEY) Trail is dedicated to pedestrian and bicycle traffic and winds lazily beneath old-growth cottonwood trees. To the south, the trail connects directly to the city's zoo, biological park, aquarium, and Tingley Beach (a family-friendly park with duck ponds, fishing, paddle boating, and other amenities). The north portion of the trail winds past urban-agricultural land and wineries to provide access via a spur to the picturesque village of Corrales.
Fall is a gorgeous season in Albuquerque – with golden colors, falling leaves, the State Fair, myriad harvest festivals, the balloon festival, and the smell of New Mexican green chile roasting on the roadside.
WHERE TO EAT
Fuel your day on Albuquerque's trails with the city's diverse cuisines – not to mention delicious New Mexico red and green chile (chose one or order "Christmas" for both served together). Bicycle boulevards and lanes offer easy access to great restaurants such as Church Street Cafe and La Crêpe Michel in Old Town, Vinaigrette and Duran Central Pharmacy in downtown, and the eclectic eateries of the Nob Hill District: Nosh Jewish Deli, Zinc Wine Bar & Bistro, Nob Hill Bar & Grill, Zacatecas Tacos + Tequila, and Thai Vegan.
HOW TO GET A BIKE
Routes Bicycle Tours & Rentals in Historic Old Town offers a wide selection of bicycle rentals and tours throughout the city, and is just minutes from the Paseo del Bosque Trail. High-end, specialty mountain bikes can also be obtained from Fat Tire Cycles.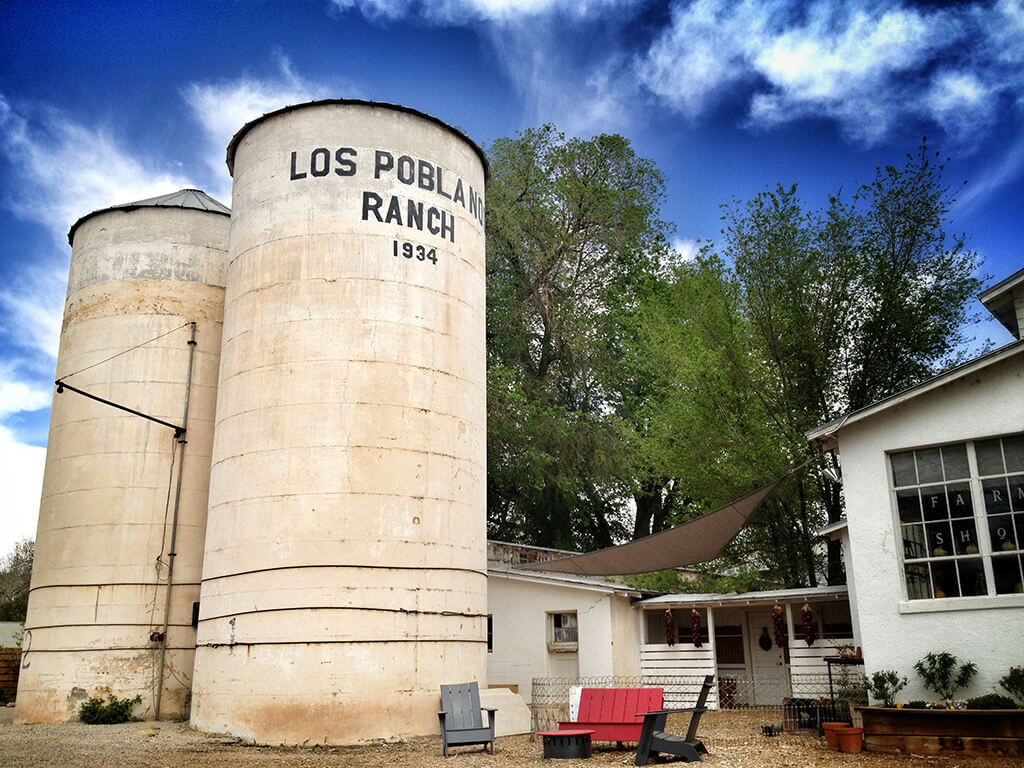 WHERE TO STAY
A short ride from the northern portion of the Bosque Trail is Los Poblanos Historic Inn and Organic Farm, a beautiful ranch property set among 25 acres of lavender fields, fruit trees, and lush formal gardens. When staying in the bicycle-friendly Historic Old Town district, Bottger Mansion blends old-world charm and modern amenities. In downtown, Mauger Estate Bed and Breakfast is a craftsman- style oasis within biking and walking distance to the city's top community marketplaces – the Rail Yards Market and the Downtown Growers Market.
---
Heather and Josh Arnold run Albuquerque's bicycle tour and rental company, Routes Bicycles. Routes and the Arnolds have been showcasing all the best of Albuquerque for over five years, while also contributing to the betterment of their community.