March 31, 2015
Bike Ride Tracking and Fitness Motivation with Fitbit Surge
Wearable tech brand introduces bike tracking to activity monitoring lineup.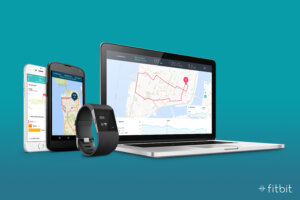 The documented health risks posed by prolonged inactivity and sitting are just one of the reasons why more people have become motived to get active more often. Whether that means walking and taking the stairs or making more trips by bike, many are also turning to wearable tech and fitness tracking apps to get a better understanding of their daily activities.
Fitbit, with their recently released GPS-enabled Surge fitness watch, are expanding their activity recording capabilities with a new bike tracking feature. Already capable of recording daily activities such as steps taken and distance moved along with workouts and runs, this new feature adds another level of tracking to the device. By leveraging GPS and the other advanced sensors on the Surge, bike riders will be able to see distance, duration, average speed, heart rate, calories burned, and the length of each ride they take in real-time. After each ride, syncing wirelessly to the Fitbit app dashboard allows users to review routes, speed, and elevation in more detail.
"Our goal is to provide users with the tools it takes to track their exercise and reward them for doing the activities they love to do most – like biking and running," said Tim Roberts, VP of Interactive at Fitbit. Rewards come in the form of achievements and motivational activity summaries and historical progress monitoring (in addition to the personal rewards from living a more active lifestyle). A social feature in the dashboard app also allows users to compare their activity with friends.
With the new bike-tracking feature rolling out to Fitbit Surge users into April 2015, tracking all daily activity from walks to the store to runs around the park to your daily commute and recreational bike rides is possible with one device. For owners of other Fitbit products, perhaps those more discreet than the watch-sized Surge, the company has also recently launched Multi-Tracker Support that allows users to sync multiple devices to their dashboard app.
Autumn Gear Guide
Find inspiration in our Gear Guide that will keep you out on your bike through wind or rain.
Download Now