May 28, 2015
Great Bike-Friendly Cafés and Restaraunts
Bike-friendly bars, cafes, and restaurants build community around a shared love of food, drink, and bicycles.
Earlier this year, we pulled together a list of six bike-friendly bars and cafés in North America. Little did we know just how many of our readers love food, beer, and bicycling so much that they filled our comments section with a list of even more great bike-friendly watering holes that we had not included.
Just in time for summer, we have rounded up 8 more bike-friendly bars, cafés, and restaurants to get your foodie fix on two wheels.
Pedalers Fork
23504 Calabasas Road, Calabasas, CA
pedalersfork.com
Pedalers Fork is a combination café, restaurant, and bike shop in Calabasas, CA, that takes their commitment to community and sustainability seriously. The restaurant has a farm-to-table menu which offers fresh, seasonal dishes sourced directly from local farmers and ranchers. The café serves 10-Speed Coffee, dedicated to small-batch roasting, ethically-sourced beans, and the promotion of community through third wave coffee. Their bike shop – while unique in being the first and only Moots boutique bike shop in the US – is also a full service bike shop for any type of ride. Come for a bike repair, stay for the wild mushroom risotto and cocktail bar.
Camrock Cafe & Sport
217 W Main St, Cambridge, WI
camrocksport.com
Camrock Cafe & Sport is all about good food and healthy, active living. Their sport shop offers full-service bike repairs, as well as rental bikes ranging from fat-tires to cross-country bikes to trail bikes. Their café offers soups, sandwiches, salads and the like, with a 100+ craft beer menu to wash it down. Camrock also features monthly live music, as well as yoga and indoor cycling classes.
Actual Cafe
6334 San Pablo Avenue, Oakland, CA
actualcafe.com
Actual Cafe is a farm-direct café in North Oakland's Golden Gate Neighborhood. They serve a rotating menu of fresh, seasonally-inspired dishes, craft beers, and a small cocktail menu. They're committed to sustainability and community, they buy locally, hire locally, and give back to the neighborhood in whatever way they can. They have indoor bike parking and were voted 2010's Bike Friendly Business by the East Bay Bicycle Coalition. In an effort to foster a lively and interactive sense of community in their space, Actual Cafe has a no-laptop policy during dinner and on weekends.
Bike Dog Brewing
2534 Industrial Boulevard Suite 110, West Sacramento, CA
bikedogbrewing.com
Bike Dog Brewing is a small brewery with a big passion for bikes. The 3 barrel brewhouse (industry-speak for really small), offers up an ever-changing variety of fresh, small-batch beers in their West Sacramento tasting room. The dog-friendly brewery is located just off a bike path, provides best bike route directions from downtown on their website, has indoor bike parking, and is decorated with a display of restored, vintage Schwinn cruisers. The owners also organize monthly gravel rides for anyone who's interested.
Pedal n' Tap
215 Spokane St, Kimberley, BC
pedalandtap.com
Pedal n' Tap is a restaurant/ lounge serving up seasonally-inspired dishes made from local and organic ingredients whenever possible. The restaurant is located in Kimberley, BC, a popular mountain-biking and trail-riding destination. Since many people hit the trails without bike locks, Pedal n' Tap keeps a cache of locks behind the bar for customers to encourage everyone to arrive by bike. 
Mocha Spoke
Grenada, West Indies
mochaspoke.com
Mocha Spoke is the first and only bicycle café in the Caribbean. The brightly-colored building – built out of modified shipping containers and decorated with recycled pallet furniture – is home to both a full service café and a bike rental shop. They have a full fleet of mountain bikes and cruiser bikes, as well as a wealth of information on the best cycling spots and routes on the island. They also offer guided bicycle tours for people of all ages and abilities. The café has a large menu of hot and cold beverages, waffles, and paninis to energize you for your ride or cool down at the end of the day.
Angry Catfish
Minneapolis, MN
angrycatfishbicycle.com
Angry Catfish is a full-service bicycle shop and coffee bar in Minneapolis. Named for its founder's longtime love of fishing and inspired by his love of bikes, Angry Catfish has a talented staff of bike mechanics ready to service any type of ride, and a dedicated team of baristas who use third-wave brewing methods and Intelligentsia coffees to brew up some of the best (and most ethical) beverages in the Twin Cities.
Velo Cult
1969 NE 42nd Ave, Portland, OR
velocult.com
Velo Cult is a full-service bike shop, venue, and bar in Portland, OR. The bike mechanics have the tools and expertise to work on any kind of bike. The venue space has an 80-year-old castle drawbridge which is lowered down to act as a stage and features multiple musical performances every week, as well as film screenings and spoken word, among other events. The bar serves an ever-evolving menu of local microbrews and wine, and pour-over coffees from high-quality roasters.
---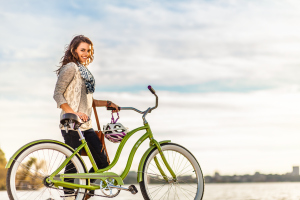 Share a cup with Schwinn! Schwinn bikes is America's most iconic bike brand; making bicycles for 120 years! Schwinn creates products that make it simple, easy, and fun for everyone to experience the freedom that comes from riding a bike. Visit us at schwinnbikes.com to check out some of our featured products and latest blog posts.
Autumn Gear Guide
Find inspiration in our Gear Guide that will keep you out on your bike through wind or rain.
Download Now