December 28, 2017
How to Keep Your E-bike Safe from Thieves
Useful tips and gear advice to help you keep your e-bike safe and secure.
E-Bikes come in many different shapes and sizes and many different price tags.  This year we serviced close to 200 participants in our E-Bike Lending Library  that hosted nine different e-bike models ranging from $1200 – $6500 USD. To give participants piece of mind while they borrowed an e-bike we teamed up with ABUS Locks and equipped each e-bike with a Bordo Granit XPlus to ensure the frame and wheel were kept secure. We advised all participants to bring a second lock because thieves tend to move along to bikes that appear to be an easier target.  There are a few other things to consider when choosing your lock stack, so we've compiled a few tips that can help keep your e-bike safe and secure so you can enjoy it for years to come.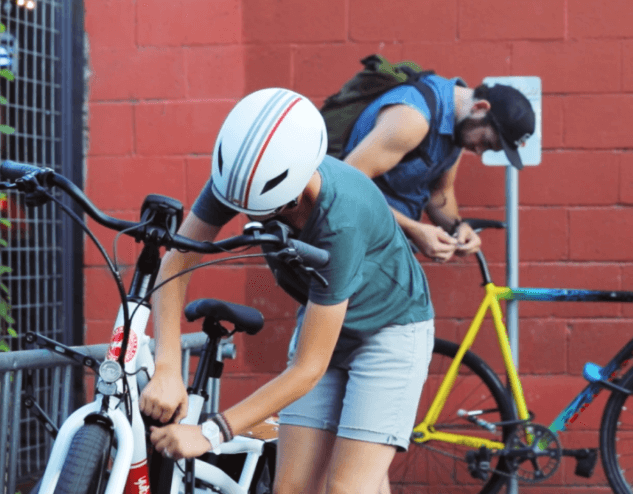 Locking Your E-Bike While On the Move
Once you have arrived at your destination the joy of the commute is replaced with the fear of leaving your e-bike unattended. A common feeling felt by all bicyclist's, e-bike or not. Depending on how long you are leaving your e-bike for your first consideration should be where to lock it.
If you're leaving your e-bike for an extended amount of time (more than four hours )  the building you're visiting may have a secure bike parking facility. Many commercial and residential buildings provide this. If not, asking the building manger where there is a secure spot to lock your e-bike might encourage the building to consider installing one. If a secure bike parking facility is going to determine whether or not you ride your e-bike into work it will be worth it to take initiative and work with the building to find a solution.  Do a bit of research as some cities require bike parking to be installed when a parking garage exists. Some even have subsidies in place. This might be enough to convince the building manger to make it happen!
If the building you're visiting or working in doesn't have a facility, don't rule out secure bike parking yet. There has been an increase in the number of secure bike facilities and bike lockers available to any member of the public willing to purchase a membership or pay a small fee. Public bike facilities can be found in locations frequented by cyclists, such as the Bike Parkade in Vancouver found around major transit hubs. Bike lockers, like those in Toronto, are available at many destinations and transit stations and designed to hold one bicycle each, as well as gear such as panniers, locks, lights, etc. Some facilities go a step further and provide a full-service bike commuting facility like Bike & Park's Bike Centers found in Chicago, Santa Monica, and Cincinnati. Bike & Park's facilities are equipped with showers, hair dryers and even offer mechanic services.
Still no luck? Locking your e-bike outside might be the only option you have left. In this case we've got a few suggestions to help prevent theft. First, don't leave it locked outside overnight. Second, lock it in place that is well lit and visible to the public with steady foot traffic. Breaking a lock without getting noticed when the area is busy with people is tough to do. Lastly, don't develop a routine. You may consider bicycle thieves the scum of the earth but that doesn't mean they aren't a smart opportunistic bunch. If they routinely see you leave your bike in the same spot they may begin to notice a pattern and plan a targeted well-thought-out attack.
If you want to be extra neurotic (and you should be), do a quick check of the bike rack to ensure it hasn't been tampered with. In a few extreme cases, thieves will cut through a bike rack with a angle grinder at night, then cover the cut with a sticker, and simply remove the sticker when they want to slip the locked bike off the rack. We also suggest using two locks. Why? Two locks are better than one. This brings on to our next section.
What Lock Should You Use? 
If you never plan on leaving your bike alone for more than 30 minutes as you run errands you might be able to get away with a medium security lock like the ABUS Bordo 6000. Any longer and it's worth purchasing a high security lock and doubling up with a second lock that is lighter and easier to transport. Investing in a good lock is a lot less expensive than replacing a stolen e-bike. Consider the ABUS Bordo Granit XPlus 6500. As added security ABUS has tons of options that can be used as second lock such as u-locks, cable locks and chain locks which provide a good level of security.
Don't forget your bike parts that aren't secured by your lock. If your wheels and seat are easy to remove, run your lock through a wheel as well as your frame, securing the quick-releasable elements separately or taking them with you. This is especially important if your e-bike uses a hub motor. If the hub motor uses a quick release wheel, DO NOT forget to lock it to the frame of the e-bike! There are locking systems, such as ABUS'  NutFix, which are designed to secure the small, removable components of your bike, like your quick release seat and wheels.
Where to store it?
When you've retired your e-bike for the day it's best to keep it out of sight. If no one can see it, its less likely to be taunting bike thieves looking for easy pickings.  Garages, sheds, secure parkades in your apartment are a good option for keeping your bike dry and out of the elements but don't let your guard down just because it is out of sight; be sure to lock your e-bike even while indoors as bike thieves love to spend time in hidden away locations where they can take their time and snap up several bikes all at once in the comfort of a covered area.  We encourage you to use two locks even when out of sight.
To remove the battery or to not?
It's always a good idea to remove the battery. Generally theft of the battery pack is uncommon but they are expensive to replace. Most e-bike batteries are secured to the bicycle and require a key to remove but that doesn't mean thieves haven't tried tampering with them. Even if they don't get the battery the thieves attempt to steal it might leave you with a broken battery which renders the e-bike almost useless. Removing the battery can help your e-bike blend in and become less of a target for thieves.
At this point you're probably thinking how many keys do I need for one e-bike. One for the frame lock, one to double up, and one for the battery. The number of keys adds up quickly and may the bike gods be with you if you lose one. Thankfully there are lock and key options out there that help with this. The YourPlus system from ABUS is a perfect example allowing you to use one key for all your locks, even the battery.
Serial Number, Photos, and Register with bike theft app 
Every bicycle includes a serial number. It's basically like your e-bikes ID. In the case that your e-bike does get stolen and recovered the police will want to know this number so make sure it's recorded. Or if by some miracle you see your e-bike on the street knowing the serial number will prove it's yours.
Having a couple photos of your bike will mean you can create a stolen bike listing. Tough to take photo's of your bike when you don't have it anymore. Sure you can find images of the e-bike model online but photos of your actual bike are always better.
There are apps out there such as Project 529 that allow you to create a profile and upload information and pictures of your e-bike. If your e-bike does get stolen at the click of a button it will notify the police and people in the area who also have the app. They will have pictures and a description to reference and can contact you if they see your bike. Now you've got a community of bicyclists helping you track down your trusted stead. How cool is that!
Think like a bike thief
If you were a bike thief would you be tempted to steal your because of how it's locked? Always make your e-bike harder to steal than any other bike around you.  Invest in 2-3 locks, it will be worth every penny. Take the time to register the serial number and take a selfie with your bike so you can identify it easily if it is ever stolen.  Choose brightly lit areas to ensure any thief wanting to steal your bike can be seen in the light and ready to face the music.
Insurance 
If using multiple locks and being smart about how and where you lock your bike still doesn't provide the piece of mind you want you can get bicycle insurance. Homeowner or renter's insurance is unlikely to cover your e-bike for theft, damage, or liability because the bike has a motor. While insurance isn't going to protect your e-bike from thieves if it does get stolen you won't have to break the bank purchasing a new one. With a quick Google search you'll be able to discover plenty of e-bike insurance options in both Canada and the United States.
Autumn Gear Guide
Find inspiration in our Gear Guide that will keep you out on your bike through wind or rain.
Download Now