January 22, 2016
Nau Copenhagen Recycled Down Trench Review
This recycled down trench is perfect for slow, leisure rides or walks in the winter.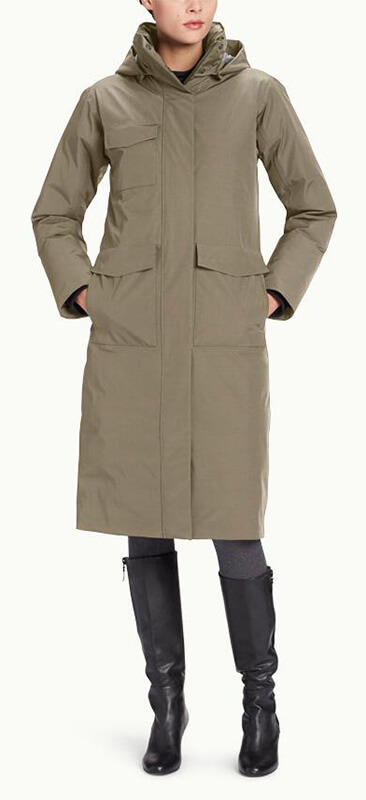 PRICE $495 USD
FIND IT AT  nau.com
Features of this trench include two-layer, fully seam sealed, waterproof, breathable hard shell, 650-fill recycled down insulation, snap-off hood with one-way draw cord, 2-way waterproof reverse coil front zip, two front hand zip pockets with dual access and one right chest zip pocket, internal pockets, center back hem with snaps and inner knit cuffs. Nau is a company based in Portland, Oregon that prides itself of making great quality, sustainable clothing.
TELL YOUR FRIENDS
This could very well be the very best winter jacket you will ever own. It's well made and it will keep you extremely warm and dry. If you are constantly on the move outside during the winter, particularly if you walk a lot, this jacket is for you. During particular cold and wet days, I choose to leave my bicycle at home and walk and transit to work instead. This jacket has become my go to for multi modal city travel, as it keeps me warm and dry on a very rainy west coast, however it has also faired really well in cold, dry and snowy climates as well. I used to always use an umbrella when I was walking in the rain, but now with its big hood and full body coverage I no longer find an umbrella necessary.
WISH LIST
This coat is quite bulky, and does not really offer much in the way of shape for its user. And although this jacket is breathable, it still gets particularly hot easily, which can cause a bit of overheating when going from outdoors to indoors or when your body temperature rises due to physical activity, both slight downsides of this jacket. I would also love to see it available in different colors.
SUMMARY
The Nau Copenhagen Recycled Down Trench is a dream winter jacket. It's long length provides excellent coverage over the knees which will guarantee to keep you warm and dry no matter how cold or how wet it is outside. This winter jacket is ideal for anyone who rides short distances without any strenuous hill climbs that will make you sweaty, as the warmth of this jacket will make you overheat if you cycle vigorously. However, this is the perfect walking/ go anywhere jacket. So although it's not an ideal winter riding jacket if you have a vigorous commute, it's ideal for slow rides and walking. This is by far the best winter coat I have ever owned.
---
Mia Kohout is the Editor-in-Chief of Momentum Mag. @MiaKohout
Autumn Gear Guide
Find inspiration in our Gear Guide that will keep you out on your bike through wind or rain.
Download Now