December 18, 2015
ARTCRANK: Art That Loves Bikes
The popular bicycle-themed poster show is always on at Artcrank's new online home.
Flying, happiness, movement, seasons, and geometric shapes are themes and images in the new, online, bicycle-focused, poster shop ARTCRANK.
The seven-color screen-print Let's Fly by Minneapolis, MN, illustrator and muralist Adam Turman is light and airy. The image was inspired by the parkways in his city. The piece shows trees changing color. There is an element of discovery and freedom in Turman's depiction of an outdoor expedition.
"Bike rides can often be a time of creative breakthroughs for me, times when my head is more clear and I can let go of some of my day-to-day stress," Turman says in the on-line artist profile. Turman is one of dozens of artists, illustrators, and designers around the globe who have produced bicycle-inspired art for ARTCRANK. The selection of 30 limited prints from 30 artists and illustrators are all 18 by 24 inches, shippable worldwide and priced at $45 USD.
In 2007, Minneapolis-based designer Charles Youel staged ARTCRANK's first pop-up bike poster show in his city. As an independent copywriter and creative director, Youel, during his day job, created what he calls "idea-centric, media-agnostic marketing strategies and creative solutions that deliver measurable results for consumer, businessto- business and arts clients." But Youel wanted to get people – especially cycling lovers – away from their screens, together in one room, for one night, to celebrate art inspired by bikes.
"Most of the creative work I was doing focused on digital interactive projects," said Youel. "I wanted to do something that combined my love of design and bicycles – and to do it in a way that celebrated handmade artwork and live events where people actually had to show up to be a part of the experience – not just press a button." The event inspired various visual interpretations on bicycling.
Over 500 people showed up to the first ARTCRANK. People wanted that person-toperson, art+bikes+beer experience. It helped that Youel knew a lot of artists and designers. "I wanted to make the art as accessible as bikes are, and change the way people think about bicycling everyday in the community as well as the way we use bikes," said Youel.
Almost 10 years after launching the first show in the Twin Cities at the One On One Bicycle Studio, Youel has produced shows in 18 cities and three countries. The biggest year was 2013 when he staged 15 different events. Last year, more than 30,000 people attended ARTCRANK events in the US and beyond.
Each ARTCRANK show features the work of 30 or more artists who live and work in the host city. Artists create an original poster design about bikes and what cycling means in their lives. A limited edition of signed and numbered copies is produced to show and sell. All posters are made by hand using printing techniques like screen-printing and letterpress. And all posters sell for the same price: $50 USD and £35 GBP. Youel feels accomplished for the near decade of producing live, pop-up, bike, art shows in cities across the US, as well as in London and Paris. This writer laments ARTCRANK has never landed in Miami, FL.
He recalled the highlights marked by images and crowds. The memorable poster of 2008 was The Cranky Peddler. In 2009 ARTCRANK expanded its space because of crowds. In 2010 Youel brought the show to London, UK, which for the St. Louis-born designer was the "birthplace of cool". In 2011, the King of the Mission poster from the San Francisco, CA, show epitomized hipster style. In 2012, a New York, NY, artist's simple bike chain arranged in a heart shape was a standout for Youel as it portrayed her love for cycling. In 2013 the Paris, France show overwhelmed Youel with the brilliant scale the show had ballooned to. In 2014, the Washington, DC, show brought out over 1,000 people to a high-rise venue.
One key aspect of ARTCRANK is charitable work they've done with non-profits. In every host city, they select a cause partner – a local, national or international organization that is using bicycles to make a difference in communities, help people live better lives, or just make the world a better place. In concert with their sponsors, ARTCRANK is a means to help raise money and awareness for groups like PeopleForBikes, World Bicycle Relief, San Francisco Bicycle Coalition, Streetsblog NYC, Washington Area Bicycle Coalition, LIVESTRONG, Bicycle Transportation Alliance, Full Cycle Bike Shop, and LivableStreets Alliance.
"His events are electric because they are multidimensional," said Jenn Dice, Vice President, Business Network with PeopleFor- Bikes. "People have different experiences with bikes. ARTCRANK exposes them to that through art." Dice's office is covered with ARTCRANK art. One of her favorites came from the show in Breckenridge, CO. It has an overall western, vintage feel featuring a female cyclist who appears to be riding a steer that is actually a mountain bike. Dice thinks the woman in the composition has a certain "kick-ass" quality.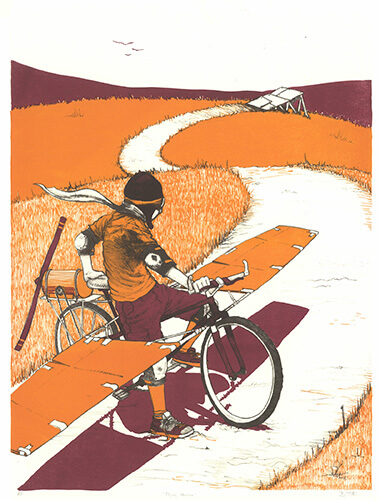 Overall the style of the work is accessible and easy to understand, whimsical and lighthearted, well made and technically sound, according to Josh Bindewald, Exhibitions and Artists' Cooperative Manager at Highpoint Center for Printmaking in Minneapolis. The images from the regional ARTCRANK shows reflect their locality that hit-youover- the-head advocacy cannot. "None of the posters are advocating anything specific," said Boston, MA, artist Brendan Totten. "It is just conveying that bicycling is enjoyable: what a positive experience bicycling is."
Totten produced a sold out, three-color lithograph in orange and maroon for the show in Somerville, MA, entitled Flying Machine depicting a boy whose bike is outfitted like a rudimentary airplane. The lad turns away from the viewer looking toward rolling hills and a homemade ramp on the horizon. "It reminded me of my childhood," said Totten. "When I got a bike it allowed me to go off and do what I wanted on my own accord. Be my own person. I wanted to convey that feeling and that sense of freedom."
San Francisco-based artist Helen Tseng wanted to show not-typically-feminine women bicycling. Her three-color print for the 2014 show entitled Sisters of the Moon depicts a woman ascending the back of a dark wolf. A white wolf in the foreground howls in unison at the full yellow moon. "My posters are an ode to the awesome women cyclists of San Francisco who bike the hills," said Tseng. "I want to show that you don't have to be a super athlete, that you can enjoy yourself cycling. It can be casual."
Tseng likes that ARTCRANK showcases different approaches because bicycling can be a personal experience. For her, cycling is supremely important, as it is her main mode of transportation. "I try to honor aspects of cycling that speak to me," said Tseng. "The important thing is to be diverse and address equality for women who bike."
Artists in the different cities often express their local culture. In Portland, OR, Jenn Levo portrays the many woodland animals she sees in nature surrounding her city… but pedaling. Minneapolis-based designer Anne Ulku created the 2014 ARTCRANK event tour poster for the entire year. Inspired by optical illusions, the red, yellow, and blue poster is an abstract, artistic representation of a bicycle, using motion and repetition. "I break down the bike form and see what it means to me," said Ulku.
This summer Youel launched the ARTCRANK on-line poster shop in July with sales commencing in September. The online shop is an extension of what Youel has done so far: It stays true to Youel's mission to explore handmade, bike-inspired posters by independent artists, illustrators and designers. In the brief time it has been open, numerous prints have sold out and he has added more. Also on tap for 2015 is a retrospective ARTCRANK book from the decade of poster parties for bike people. Austin-based designer Douglas Powell sees ARTCRANK as advancing the conversation about cycling. "Charles is a great community leader," said Powell. "He's hit a chord there blending different communities. ARTCRANK has found a way to create an experience around the posters."
---
To view more a selection of posters in the online shop, or to learn more about ARTCRANK, visit artcrank.com
Autumn Gear Guide
Find inspiration in our Gear Guide that will keep you out on your bike through wind or rain.
Download Now