January 4, 2016
BEAMZ' Coppiced Wood Bicycles Take Sustainability to New Levels
The unique hardwood bicycles are one part bike and one part social venture.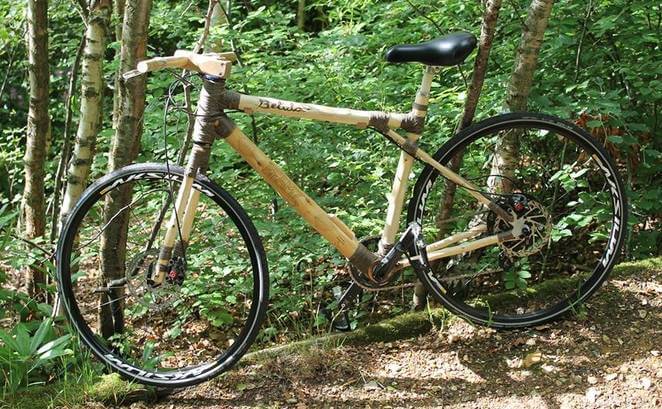 There are a number of manufacturers of wooden and metal-alernative bicycles experimenting with ways to make bike manufacturing as sustainable as the process of riding them. While most of the companies focus on bamboo-based frames, there are also a smaller number using speciality hardwood. While beautiful, and in most cases still more environmentally sound than traditional steel or aluminum-based bike manufacturing, most of the wooden bicycles currently available rely on imported hardwoods that are not necessarily sustainably harvested.
As Treehugger reports, one UK-based social enterprise is experimenting with a wooden bicycle design made from sustainably managed, local hardwood poles in order to provide an alternative to current global manufacturing models. BEAMZ' prototype bicycle, whose frame and handlebars are made of hardwood poles from tree species indigenous to the UK, is harvested through the traditional woodland management technique of coppicing.
Coppicing is a method of small-scale wood harvesting which relies on the fact that many varieties of trees will send new growth from the stump or roots if cut down. Trees are cut to their base and then left alone to regrow for a number of years, and the young regrowth is then harvested as poles, and the cycle begins again. It has a relatively short renewal period, and is typically undertaken on rotation so there is always wood to harvest each year, and the biodiversity of the region is ensured.
Nick Coates, the man behind BEAMZ, spoke to Treehugger about the bike and the concept of the project in general. More than just a bike company, Coates told Treehugger that the BEAMZ is a community interest company with three principal goals: to reduce energy demands to a level that can be sustainable supplied; to support wildlife diversity by provided a financial catalyst for sustainable woodland management; and to provide "high wellbeing" local jobs using local materials worked by local people.
"The wood used [[for the bikes]] is entirely natural in origin, the growth of the trees has not been managed or optimised for the purpose. This is firstly to demonstrate that this natural material is quite usable and secondly because the timescale involved in creating wood from managed sources is quite high, although much shorter than conventional forestry," Coates told Treehugger. "Part of the future development will be investigating potential improvement to the material perhaps including the growing of custom shaped poles, or limiting the branching on sections of the pole (as is done with willow for cricket bats) provided such development is compatible with the objectives above."
As for the bike itself, named the Betula, the frame and fork are built from coppiced birch poles, the handlebars from willow, and the frame is held together with hemp fiber and a bio-derived resin. Top it off with a Shimano derailleur and front and rear disk brakes, and the completed ride weighs in at 24 pounds (11 kg). It is said to have the "handling characteristics comparable to high performance bicycles of conventional materials."
The earliest BEAMZ bikes for sale will be available in the spring as part of a limited crowdfunding campaign to users who agree to act as beta testers. While the price hasn't yet been decided, Coates estimates it will be "quite high," but buyers will have a high degree of support from BEAMZ and an opportunity to provide the company with valuable feedback. Due to the unusual manufacturing method, each BEAMZ bike will be completely unique, and Coates estimates that these early limited edition models will have a high future value.
We've heard of a lot of sustainability-driven companies in this industry, but a bike manufacturer whose main goal is woodland management is a new one even for us. In the future, Coates hopes to expand his operations into coppiced pole wood for other uses in order to provide a larger scale of high quality work opportunities for skilled craftspeople. It is a noble goal and an intriguing project, and we'll be watching the development of this unique bicycle with interest.
Autumn Gear Guide
Find inspiration in our Gear Guide that will keep you out on your bike through wind or rain.
Download Now