January 28, 2016
Bikes of Reckless Optimism, A New Brand Sets its Sights on Change
Bikes ORO is a social enterprise dedicated to bringing the transformative power of bicycles to people all over the world.
Bikes of Reckless Optimism is a project eight years in the making. When Chelsea Koglmeier was working with a women-focused micro-finance company in Kampala, Uganda, she couldn't help but noticing the transformative power of bicycles for the residents of the refugee community where she worked. "The majority of people get around on foot, so bikes enable people to get further, faster, carrying more…Bikes change the game," Koglmeier relates. "I thought about the TOMS model of bringing structure to a relationship between the nonprofit and for-profit sides of a single product, and thought 'Why not bikes too?'"
Koglmeier tabled the dream while she went about other ventures – finishing college, working in non-profits and tech, competing in triathlon – but never quite lost sight of it. In 2015, she decided the time was right, and the vision of Bikes of Reckless Optimism (Bikes ORO) became a reality. Bikes ORO is a social enterprise committed to empowering people in all walks of life through the transformative power of bicycling.
With the purchase of each Bikes ORO bicycle, the company buys a new set of wheels for World Bicycle Relief's Buffalo Bike, a sturdy cargo-carrying bicycle designed specifically for the rough terrain of rural Africa. World Bicycle Relief has been in operation in parts of Africa since 2004, bringing the life-changing power of reliable, sustainable transportation to communities all over. Beyond their donation of the Buffalo Bike, Koglmeier valued the organization's commitment to local manufacturing, local job-training, and the work-to-own/study-to-own model. By supporting WBR's efforts, Bikes ORO creates a virtuous cycle in which buyers, by purchasing their own sustainable transportation, can directly contribute to somebody else's sustainable transportation and economic access halfway across the globe.
Bikes ORO offers three models of bicycle designed specifically for everyday riding. "I really wanted to make a bike I could proudly sell to my friends and family who don't know much about cycling," says Koglmeier. "So much of what we see in the bike world is tech-centric, cold, and quite masculine — I wanted to do the opposite by infusing accessibility, optimism, and a social mission into what we are selling." The bikes were designed in partnership with Australia-based hand-builder Flying Machine, and feature design and components focused on simplicity. All three models, the Step Through, the classic City Bike, and the Porteur, feature a Shimano 3-speed internal hub and a Gates Carbon Belt Drive for low-maintenance riding.
Koglmeier is committed to sustainability and social change at every level of the business. "The bikes are made in a factory in Tainjin, China. I've walked the factory, met with the team over there, and am impressed with their working environment," she says. "For context, it is impossible to build a bike and not source some components internationally. Even small, American made builders have to get their components from another factory. To tackle this environmental challenge, ORO is creating a conversation about our footprint. We're openly sharing and talking about the average emissions associated with production of an 'everyday' bike, and providing information to our customers about how many miles it will take them riding (versus driving) to go carbon neutral. In the long run, we plan to build it into an online community where you can track your miles ridden and see the 'change.'"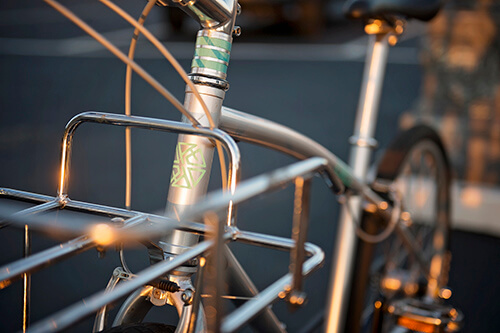 For now, they're only selling to the US market. Sales are predominantly online, but they're working with a few select bike shops as well as alternative retail channels such as yoga studios, gyms, and grocery stores to broaden their reach and interact with a new type of customer. "There are so many people interested in wellness, our environment, and other humans," says Koglmeier. "This is a great avenue to put all those interests together into an intentional lifestyle choice."
Koglmeier is one of a small but growing number of women taking the lead and pushing for change in an industry still largely dominated by men. "There's a very small number of  women leading strategy for their brand's "women"-focused arm, and not many companies founded by ladies," says Koglmeier. "Maybe to get more women on bikes, we need more women building the bikes, building the company strategy from square 1, and investing at a deep level."
While it certainly doesn't hurt business to have a woman at the helm, Koglmeier maintains that she didn't set out specifically to target women. "We're building the brand around quality, simplicity, and a social mission," she says. "That can resonate with anyone."
---
Hilary Angus is the Online Editor at Momentum Mag. @HilaryAngus
Autumn Gear Guide
Find inspiration in our Gear Guide that will keep you out on your bike through wind or rain.
Download Now