August 22, 2016
Burley Nomad Bike Touring Trailer Review
A super durable long-distance bike touring trailer that pulls double duty for car-free city living.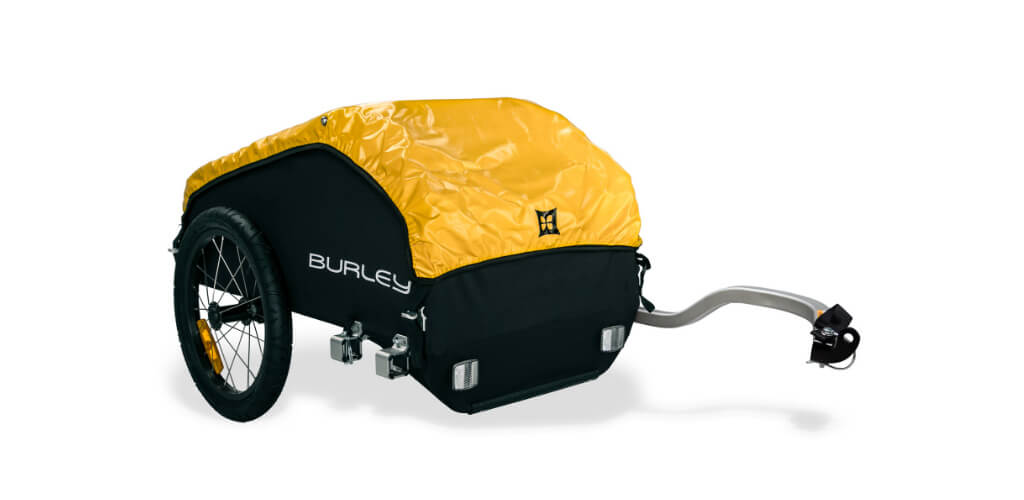 PRICE $339 USD
FIND IT AT burley.com
TELL YOUR FRIENDS
The Nomad's weight-capacity ratio is on point. You can fit a ton of stuff in it, safely tucked up under the weatherproof cover, but at 14.5 lbs (6.5 kg), the trailer itself doesn't add much to weight to your load and it pulls nicely, with little drag. The two wheels offer sturdiness, compared to many touring trailers which rely on only one, the Nomad has a really stable feel to it.
As the company name suggests, this thing is burly. It's made of super durable, weatherproof materials. Bear in mind that weatherproof does not mean waterproof. It let a little bit of water in (about half a cup) during a long ride in a particularly heavy rain. If you plan to haul any electronics in a downpour they should go in a separate dry bag, but other than that the trailer is waterproof enough for most circumstances, just remember that it's not completely sealed and take due precaution. The weight capacity is 100 lbs (45 kg), which is probably more than the maximum of what most people want to bring on tour, but is a welcome option when you want to pick up groceries and beer and the end of a ride, or if you're using it for hauling heavy loads around the city.
The attachment mechanism is wonderful. Once you've installed the hitch on your rear dropout (a one-time installation which requires minimal mechanical skills), you can attach and detach the trailer with no tools in a matter of seconds. The curved tow arm is great as it makes turning really smooth. The attachment mechanism also has an added bonus for anyone who, like me, frequently lets their bike fall over. There's a section of durable, bendable rubber between the clasp and the tow arm, what Burley calls a Flex Connector. So when your bike falls over the rubber flexes and allows the trailer to stay put, rather than tipping up awkwardly and yard sale-ing your stuff all over the ground.
I was hesitant about the tyres, at first glance they look like cheap kids' bikes tyres. But after months of riding them down forest trails and gravel roads, and dropping off curbs with them, I have yet to pop one or run into an issue. So I guess appearances can be deceiving. The two wheels were also amazing for riding on uneven terrain, the trailer just bumped along behind me and I didn't feel that it compromised my balance or stability.
The tyres come off with the push of a button and the trailer folds down to relatively very easily. For its size, it's quite easy to store.
While I didn't frequently make use of the internal organizational tools – 3 mesh pockets and 6 clasps for tying stuff down – I can see them being very helpful for someone more organized.
I like the design, it stands out but it's not tacky. There are enough reflectors on the back to catch the eye when riding at night, I usually only attached a rear light to my bike and let the reflectors do the work for the trailer. I very rarely used the flag. Okay I never used the flag, but if you like 'em, you've got one and it's easy to attach and detach.

WISH LIST
I wish the cover was easier to detach completely. Currently you have to unbolt multiple bolts to take it off. This was fine for touring but for transporting larger objects in the city (which is not the intended design but I'm sure I won't be alone in putting it work for double duty), the cover was a pain to take off and gets in the way a bit.
The Nomad unfortunately suffers the same problem as basically all bike trailers, it's difficult to lock up. The lockable parts are either inside the cover, or the rear axle, so finding a way to lock it to your bike or a pole requires a cable and a bit of dancing around in different positions until you find something that works. Again, this is not unique to Burley and isn't really a problem if you're touring, but is a pain if you frequently use the Nomad in urban areas.
I wish it came with two hitches so you could easily share it between multiple bikes, or with a partner or friend. You can buy extra hitches for $25 USD, and if you have more than one bike or are more than one person, I would highly recommend doing so.
SUMMARY
The Nomad is the best trailer I've encountered for touring, especially long distance. Because of its capacity, you can eliminate the need for panniers entirely even on long trips. This is an amazing option for anyone who wants to tour without racks, or somebody who has panniers and just wants to bring a ton of stuff. There's even an optional cargo rack for $89 USD which I didn't test, but if you want to bring the whole house with you, you can.
It's advertised as a long distance trailer and it definitely does its duty in the regard, but I would also highly recommend it to someone who mostly stays in the city but wants to go on weekend trips. You can pack everything you need into it for a weekend camping trip for two people. Since it can attach to any bike, it makes any city bike into a touring bike, and with multiple hitches you can go on a trip for two and switch the load between you.
As mentioned, there are a few things about it that are annoying for frequent use in the city. But if you only want to buy one trailer that works for both longer outdoor excursions and car-free urban living, this thing is worth every dollar.
---
Meaghan Horne is a bike touring enthusiast who lives car-free in Vancouver, BC. 
Autumn Gear Guide
Find inspiration in our Gear Guide that will keep you out on your bike through wind or rain.
Download Now