August 19, 2016
Blix Komfort + Electric City Bike Review
The Komfort + is a beautiful step through city bike with the power to back up its good looks.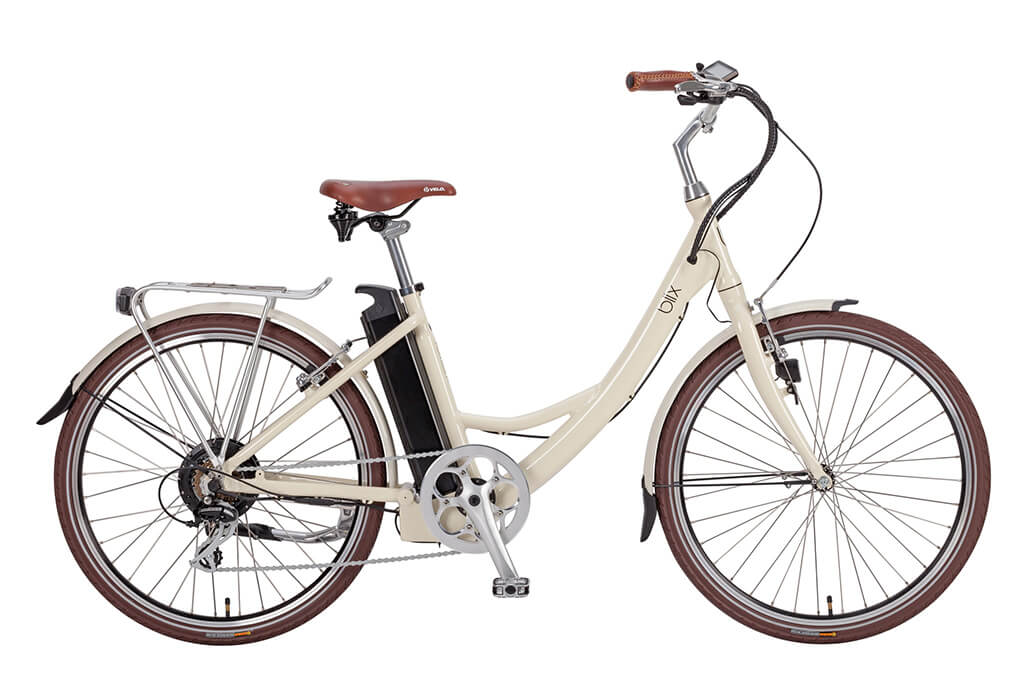 PRICE $1,990 USD
FIND IT AT blixbike.com
---
This bike is part of our E-Bike Lending Library


---
The Komfort+ has since been updated and is now called the Komfort Prima. Some of the upgrades include disc brakes and new location of battery.
The Komfort+ is an upright electric city bike.  It comes in two sizes, small with 26" wheels and medium with 700c Kenda wheels .  You will find a Velo artificial leather, coil sprung saddle and foldable-seat post,  Tektro V-Brakes,  7-Speed Shimano gear set with rear derailleur.  Panasonic, lithium-Ion 36V/11Ah battery, Bafang Brushless 350W rear motor, 4 different levels of pedal assist, throttle, integrated front and back LED Lights, kickstand, chain guard, and rear rack.  Choose between Cream, British Racing Green and Black.
TELL YOUR FRIENDS
The Komfort+ has everything you're looking for in an urban electric bike: beauty, power, and comfort.  With its step through frame, the Komfort+ takes you where you need to go in style, and gets you there quickly. Even though it has the same motor as the Vika +, it feels 2-3x more powerful, which I assume is a result of the larger wheels. The electric assist is intuitive as are the controls, and the throttle option is ideal for a hilly city. With 7 gears you can still pedal the bicycle easily with the assist turned off, although I won't pretend I ever did so on the uphills. The bike maxes out at 20 mph (30 km/h), for a distinctly urban bike I would never want it to go faster than this.
On multiple 20 mile (32 km) rides to the beach using a combination of assist modes and throttle, I never wore the battery down to empty, and as advertised it charges in 3 hours. The fact that you can take the battery out so easily (just lift up the seat and slide it out) is a game changer for charging on the fly. It's not always that easy to get the whole bicycle close to an outlet, so in a tight spot you can just slip the battery out and plug it in and you're good to go. While you can lock the battery into the bike, being able to take it out also offers extra peace of mind when leaving bike outside in high theft-risk areas. This is an incredibly practical design feature that should be the standard on e-bikes.
If ordering online, the bike ships 90% built. You have to put the handlebars in, which is not difficult but depending on your mechanical inclination may require a quick stop at the shop to make sure all is as it should be. Beyond that, all I did was pump up the tires, plug in the battery, install the pedals and I was good to go.
The geometry is right. As the name suggests, the Komfort+ offers an incredibly comfortable sitting position. With the electric assist, there's really no need for an aggressive riding posture so Blix took a nod from their Swedish heritage and designed a completely upright bicycle that feels incredibly elegant to ride. I tested out the small, and at 5'5″ it was a perfect fit, the fact that it has two sizes is great. It's not that big for an e-bike, even modest sized for a step-through in general, which was a welcome relief since I've been "storing" it in the middle of my living room.
At 49 lbs (22 kg) the Komfort+ is neither particularly heavy nor particularly light for an e-bike, I can lift it up a few stairs but I'd imagine having to lift it on a daily basis would get tiring very quickly.
Beyond the basics, the Komfort+ is just incredibly thoughtfully designed at all levels. It makes good use of high-quality components, and comes with all of the bells and whistles: integrated LED lights, rear rack, fenders, even mudguards. The bike is stunning, not only for an e-bike but for a bicycle in general, even the motor control interface is beautiful.
WISHLIST
If I really have to go there, I would ask for real leather ergonomic grips and a natural leather seat.  There isn't really much more I would want, this bike is near perfection.  
That said, if they were to make a deluxe model with an internal gear hub and disc brakes, I'm sure I wouldn't be alone in opting for the upgrade. And ideally, it would be navy blue 😉
SUMMARY
The Komfort + is beautiful without compromising on comfort or power.  While heavier than the Vika+, with virtually the same electronic components, the ride was smoother and felt more powerful and required less effort on my part. This bike is everything I dreamed about: style, comfort, quality and and easier ride up the steep hill I live on.  I would recommend it to a woman like me, with or without kids who wants to bike commute without arriving drenched in sweat. I attached a trailer hitch to pull my children and suddenly trips to the beach were a much more attainable option, I had the confidence to tackle the 20 mile (32 km) without my partner. Attaching a trailer hitch is more difficult than on a normal bike, and will require a trip to the bike shop or a handy mechanic to pull off as it's a specific wrench you probably don't have at home, but once it's on it's on and you have yourself a beautiful family commuter.
It's not cheap, but it's also not particularly expensive for its category and at the price point Blix has set out the Komfort+ is worth every penny.
It's difficult to find an electric bicycle that pulls off power so gracefully, the Komfort+ is that bike. 
---
Jessica Jan is mother of two and the co-owner of Opus Salon in Vancouver, BC  opussalon.com
Autumn Gear Guide
Find inspiration in our Gear Guide that will keep you out on your bike through wind or rain.
Download Now