March 3, 2016
Everybody Really, Really Wants this Bicycle Bell
Knog's Oi bell "looks sexy and sounds like an angel playing a glockenspiel."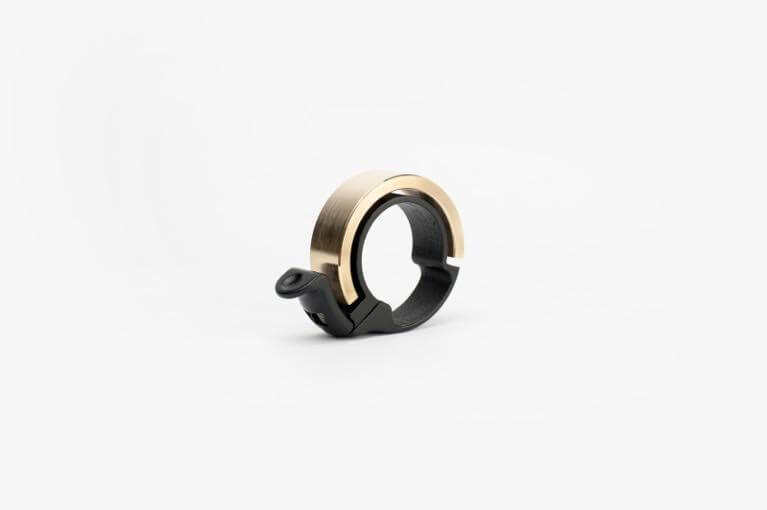 Bicycle bells. Despite being legally mandated in most big cities, not everybody has one on their bike. In fact, they tend to be the last accessory – safety or otherwise – added to a new bicycle, and in many cases are removed upon purchase if they come as part of the standard package. In many ways, that's understandable. There are a seemingly endless variety of bicycle bells on the market in a variety of colors and materials, but they all adhere to same basic design principle. That is: dome-shaped, somewhat clunky, and pretty annoying to listen to.
So when Knog, the Australian bike accessories company known for colorful and somewhat eccentric lights and locks, decided to get into the bicycle bell game, they took it all the way back to the drawing board.  Judging from the public response, they got it right.
Knog launched a Kickstarter for the "Oi" bell four days ago, hoping to reach a funding goal of AU $20,000  in the 30-day crowdfunding period. As of this writing, they're sitting at AU $222,272, a cool 11x over their goal. I've had to update that figure a number of times, because in the 20-odd minutes it's taken me to put this article together, they've raised about $4,000.
Maybe it's great timing, with the Australian state of New South Wales having recently cracked down on cyclists with a $117 fine for anyone riding without a bell. Or maybe, and much more likely, it's just a damn fine bell.
The Oi redefines bicycle bells both aesthetically and sonically. The sleek, understated design is barely visible on your handlebars, appearing more as a fancy mechanical clasp than a bell. By being so discreet, the Oi could appeal to virtually any rider with any bike style. Rather than a jarring 'clang' or a too-high-pitched 'ding,' the Oi sounds almost musical. You could throw it on loop and mix it into a Brian Eno track without anyone being the wiser. Have a look and listen in Knog's crowdfunding video:
"We wanted to reinvent what the humble bike bell was," says Knog CEO Hugo Davidson. "We wanted to design a product which was sympathetic to all bikes, looked great on vintage bikes, and looked really good all the way through to road bikes."
The Oi is available in five different finishes, Aluminium, Titanium, Brass, Copper, and Black, and comes in two different sizes to fit most bike handlebars. At AU $26 (around $19 USD / $25 CAD), it's not the cheapest bicycle bell on the market, but it seems like a bargain for a well-made and beautiful addition to your favorite bike.
Judging by the astonishing speed with which Knog smashed through their funding goal, we can assume that this bell will hit the shelves, and soon, but you still have 26 days left for early bird pricing on the Oi while their Kickstarter supplies last.
"Bike bells generally look and sound a bit ugly," the Kickstarter page starts off with. "But why? What if they looked sexy and sounded like an angel playing a glockenspiel?"
What if is right? I'm sold.
---
Hilary Angus is the Online Editor at Momentum Mag. @HilaryAngus
Autumn Gear Guide
Find inspiration in our Gear Guide that will keep you out on your bike through wind or rain.
Download Now