June 16, 2015
How to Sell Your Old Bicycle on Craigslist
Tips for selling your old bicycle on Craiglist or other online classified websites.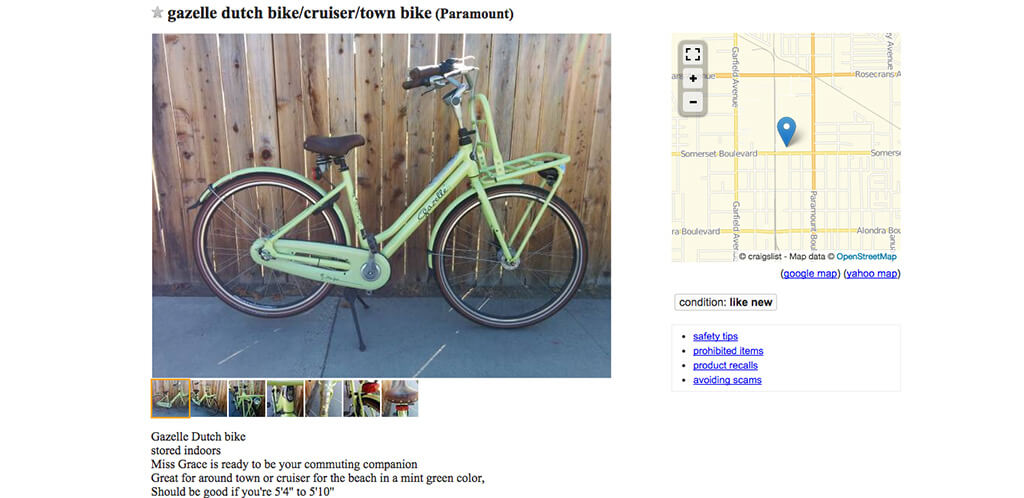 There comes a time when you may be ready to sell your trusty current bike and purchase something better suited to your current cycling needs.
Most reputable used bike shops won't buy used bikes – high rates of bike theft in cities makes it more of a hassle than it's worth – so you'll probably need to sell your bike yourself. Online classifieds, like Craigslist, are a great venue to connect with potential buyers.
Below, I will walk you through exactly what you need to do to sell your bike so that you and your buyer both get a fair deal. If you are unfamiliar with some of the terms used below, this handy bicycle part reference guide can help.
Define the Bicycle Style You are Selling
Mountain bikes have relaxed frame geometry, flat bars, and 26" wheels, and may also have front shocks or dual suspension. Road bikes have more aggressive frame geometry, drop bars, and either 700c or 27" wheels. Bikes with mixte frames also fit into the road bike category, though are sometimes called city bikes or cruisers. Hybrids meet in the middle – newer models often have 700c wheels and flat handlebars. City Bikes (known as cruisers in some areas, town bikes in others) have relaxed geometry, step-through or loop frames, and handlebars that sweep back toward the rider.
List the Frame Size
For all bikes, the frame measurement usually hinges on measuring the seat tube, which is often where sizing will be posted unless the sticker has been removed. If there is no size displayed you can get an accurate measurement with a tape measure. Start at the the middle of the crankset and stretch the tape upwards to the top of the seat tube. Hold the tape measure out from the frame at the top of the seat tube to adjust for the distance the crankset has displaced the measure.
Make, Model, and Parts
Unless your bike has been repainted, or is quite old, you should be able to take a look at the frame and figure out the brand of the bike. The model name will also be included somewhere on the bike.
If the bike is a recent model, the brand's website may also be a handy guide to help figure out some of the highlights of the bike. To attract buyers who know what they are looking for, be specific about the parts on your bike such as brakes, hubs, crankset, and derailleurs as well as fenders, racks, and chainguard. If this information isn't available or you are uncertain of the part names, you can compromise by listing the type of parts and number of gears.
List the Bike's Condition
It's a good idea to take your bike in for an assessment before you sell it. Most bike shops will do an assessment for free. A community or co-op bike shop can assess your bike, recommend fixes, and walk you through what you need to do. Retail bike shops also provide an assessment for free, but the work will cost a bit more and you won't get your hands dirty.
Ask the mechanic what work should be done right away, if any, to make sure the bike is in rideable shape for your buyer; take note of any additional recommended maintenance, and communicate this in your Craigslist posting.
Take Clear Photos
Aim to post around six photos that allow potential buyers to see the full bike as well as close-ups of the front and rear brakes, cranks, freewheel/cassette, brake levers, and shifters. Make sure the lighting is good and the pictures are clear, and try to take the pictures outdoors, or in front of a clean, light-colored wall.
List Your Asking Price
When pricing your bike, consider what you paid for the bike, the condition that it's in, the demand for bikes in your area, and the relative popularity of the style of bike that you're selling. Handsome old city bikes generally fetch an aesthetic premium, whereas a good-quality old mountain bike may fetch you a little less.
Finally, as with all Craigslist interactions, only post a bike when you've got time to sell it, and be conscious of your safety. To make sure an enterprising Craigslister doesn't just ride your bike away and never come back, you can ask to hold their jacket or their bag.
---
Andrea Bennett is a bike mechanic with four years of experience at community bike shops. She's written for Maisonneuve, The Walrus, and The Atlantic. @akkabah | andreabennett.ca
Autumn Gear Guide
Find inspiration in our Gear Guide that will keep you out on your bike through wind or rain.
Download Now