June 16, 2015
How to Buy a Bicycle on Craigslist
Tips for buying a bicycle using Craigstlist and other online classified websites.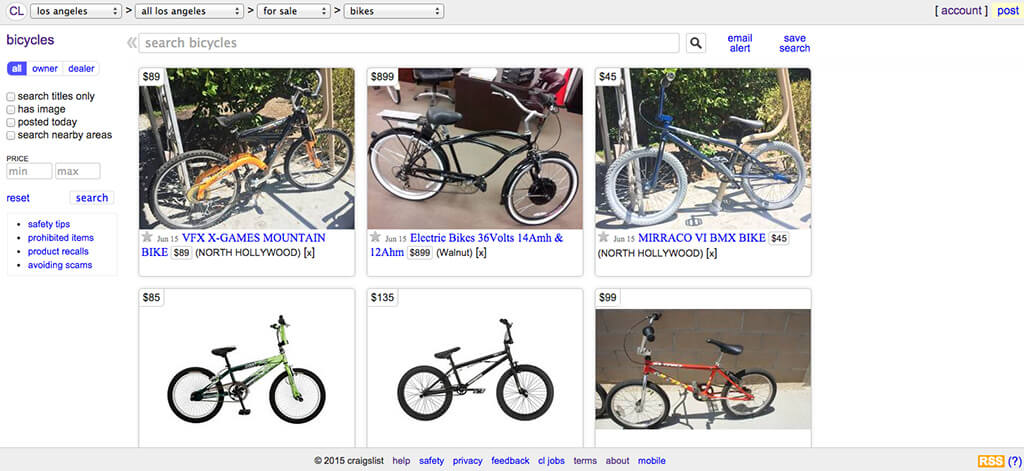 Are you looking for a bike you can use to commute to work during the week, and to the beach or the park on the weekends? Choosing used over new when buying a bicycle can allow you to get better bang for your buck, and you can give yourself a pat on the back for diverting a bike from landfill. When buying used, a budget of $200-$350 can often be enough to find a decent bike suited to your needs.
Your local used bike shop may have a great used bike tuned-up and ready for you. If searching online classifieds for used bikes, then arm yourself with some bike knowledge and wade into the waters of Craigslist and similar websites.
Narrow Down Your Search
When you're deciding what kind of bike you'd like, try to balance aesthetic preferences with your needs, budget, and maintenance skills. Single-speed cruisers from the 1940s are handsome, for example, but they're not your best bet if you live in a hilly area. Three-speed bikes from the 1960s through 70s are great finds and often already equipped for daily riding.
If you're looking for a great deal, rigid frame mountain bikes from the 90s usually sell for less than what they're worth and you can swap the knobby or treaded tires out for some more pavement-friendly options like slicks, and have a great base to add parts for a useful city bike for a fraction of what you'd pay new.
Estimate Your Frame Size
Road bikes are measured in centimetres, and mountain bikes in inches. City bikes may be measured in either, or using a Small to X-large scale. To figure out what size bike will work for you, measure your height and your inseam, and take a look at this bike sizing guide to get a sense of what your frame range should be in both inches and centimeters.
Assess the Bike's Condition
If you don't know much about bike mechanics, ask a more knowledgeable friend if they'll be willing to give you feedback on Craigslist ads, and possibly even come along for the ride when you meet up to buy the bike.
Make sure to have the bike assessed before you commit to buying it. If the bike does need work – like a hub overhaul, or a wheel replacement – it's not necessarily a deal-breaker, but the seller could be willing to take less than the asking price to offset some of the maintenance costs.
Look Out for Stolen Bikes!
If you live in a large city, chances are bicycle theft is fairly common. Your city's police department may have a stolen bike registry; if so, you can ask the Craigslist seller for the bike's serial number and look it up in the database.
Be wary of people who are selling multiple bikes at one time. Ask the seller where they get their bikes, and keep an eye on the listings – irate (former) bike owners often call these sellers out for theft. Also, if you find a bike that's priced at a too-good-to-be-true rate, then chances are it's a stolen bike.
If the seller says they've posted their own bike, its size should be appropriate for their height and they should be able to tell you where they bought the bike and answer simple questions about the bike's parts and maintenance history.
---
Andrea Bennett is a bike mechanic with four years of experience at community bike shops. She's written for Maisonneuve, The Walrus, and The Atlantic. @akkabah | andreabennett.ca
Autumn Gear Guide
Find inspiration in our Gear Guide that will keep you out on your bike through wind or rain.
Download Now