June 3, 2016
Are Bicycle Helmets Holding Us Back?
The helmet debate has been raging for years. The way things look, it shows no signs of abating.
Three years ago when I was the Bicycle Coordinator in Minneapolis, MN, I became involved in a controversy over a bicycle helmet – or lack thereof. After a trip to Europe, where I had ridden with the non-helmeted masses in three of the safest bicycling nations on Earth – Denmark, Germany, and the Netherlands – I had declined to top my noggin.
I didn't realize it but I had become one of the first U.S. public officials to question bicycle helmets openly, telling the local newspaper in an interview, "I just want [bicycling] to be seen as something that a normal person can do … you don't need special gear. You just get on a bike and you just go."
Locals immediately criticized me. The pro-helmet cry was passionate and full of concern over traumatic brain injuries, which is not unusual when bicycle helmet policy is debated. Soon after, I was told to start wearing head protection while bicycling on the job.
Even though I was no longer able to talk about helmets without the risk of public outcry, the debate was far from over. Some people came out of the woodwork to support my position, including a high school student who published an opinion piece that included research showing the promotion of helmets was leading to an increase in the fear of bicycling. A leader of a mountain biking club for kids also supported the position. He shared his experience of being forced to resign as club leader after he refused to change his view that helmets cause people to stop bicycling for city transportation trips.
That story hit home. Although I was not forced to resign, I refused to change my view and as a result, I largely curbed my penchant for bicycling in the city.
The State of Bicycling and Helmets in North America
Although we often tout the increase in bicycle commuting that we've seen over the last two decades, the reality is that the rate of bicycling in the US and Canada remains very low. In 2014, bicyclists comprised only 0.6 percent of all commuters in America, and only 1.3 percent in Canada according to a 2011 study. As North American bicyclists, this makes us barely noticeable to motorists.
But progress is taking place. Officials and advocates are making smart investments to increase bicycling rates in North American cities: more bike paths, protected bike lanes, traffic calming, and educational training. According to the League of American Bicyclists, those cities that are leading the charge with bicycle-friendly changes are experiencing an increase in urban ridership.2 Cities like Portland and Minneapolis are great examples, with bicycle commuters respectively comprising 7.2 percent and 4.6 percent of residents traveling to work in 2014.
When it comes to bicycle safety however, progress slows when the center of attention becomes the bicycle helmet. Much like whether or not a motorist in an accident was wearing a seatbelt, one of the first questions we ask when a bicyclist is involved in a crash is, "Were they wearing a helmet?" The media and police reflect the public's pro-helmet sentiment by implying that its role in any major crash is highly significant.
Most health care professionals tip their hat to the helmet as well. In a recent National Public Radio piece titled As More Adults Pedal, Their Biking Injuries and Deaths Spike Too, the leading piece of safety advice given to bicyclists by the doctor and researcher was, "Wear a helmet."
So What Does the Research Say?
There are studies of every shape and size about bicycle helmets and fair warning: your head will soon spin if you dive in on the Internet.
Its complicated history notably began in the late 1980s, when helmet use was uncommon in the general population. A 1989 study by epidemiologists Diane C. Thompson and Dr. Robert Thompson examined the helmet-wearing habits of Seattle bicyclists who were in crashes and concluded that bicycle helmets reduced their chances of head injury by 85 percent, if the bicyclists were wearing a helmet – a far-reaching claim given what we know today. Just keep reading!
In order to reach this conclusion, the Thompsons compared the low, helmet-wearing habits of head-injured bicyclists with the high, helmet-wearing habits of bicyclists who had sustained other bodily injuries. Because of the discrepancy in helmet wearing rates, with the bodily-injured group wearing helmets at a much higher rate than the head-injured group, the researchers concluded that helmets were greatly reducing head injuries.
But Dr. Dorothy Robinson, a leading bicycle helmet researcher in Australia at the University of New England, criticized their conclusion because of the comparison group used.
"The whole idea of a [comparison] group is that it should represent the general population," she wrote to me in an email. If the study had used the low, helmet-wearing rate of the general, child bicycling population seen in Seattle at the time, there would have been very weak evidence showing that helmets reduced head injuries.
Why is it unfair for the comparison group to be bodily-injured bicyclists? Dr. Robinson theorized that bodily-injured bicyclists got into crashes more often, because they were wearing helmets. More on what could be behind that later!
In the decades since (even while using bodily-injured comparison groups), no researcher has been able to replicate the 85 percent head-injury reduction rate of the Thompsons study. A 2011 Norwegian meta-analysis by Rune Elvik showed that the average reduction in head-injured bicyclists in all prior bicycle helmet research was 30 percent. This study included the oftentimes overlooked negative effect of helmets on neck injuries, which four studies have now analyzed.
In 2013, the Washington [DC] Area Bicycling Association petitioned the US Federal Highway Administration to remove from its website the oft-repeated statistic, "Helmets reduce head injuries by 85 percent," since the claim rooted in the '89 study was providing false security to bicyclists and distracting from real safety measures.
The transportation agency accepted the request. But after conducting a few Google searches, it was apparent to me that the 85 percent figure still persists elsewhere disguised as uncontroverted fact.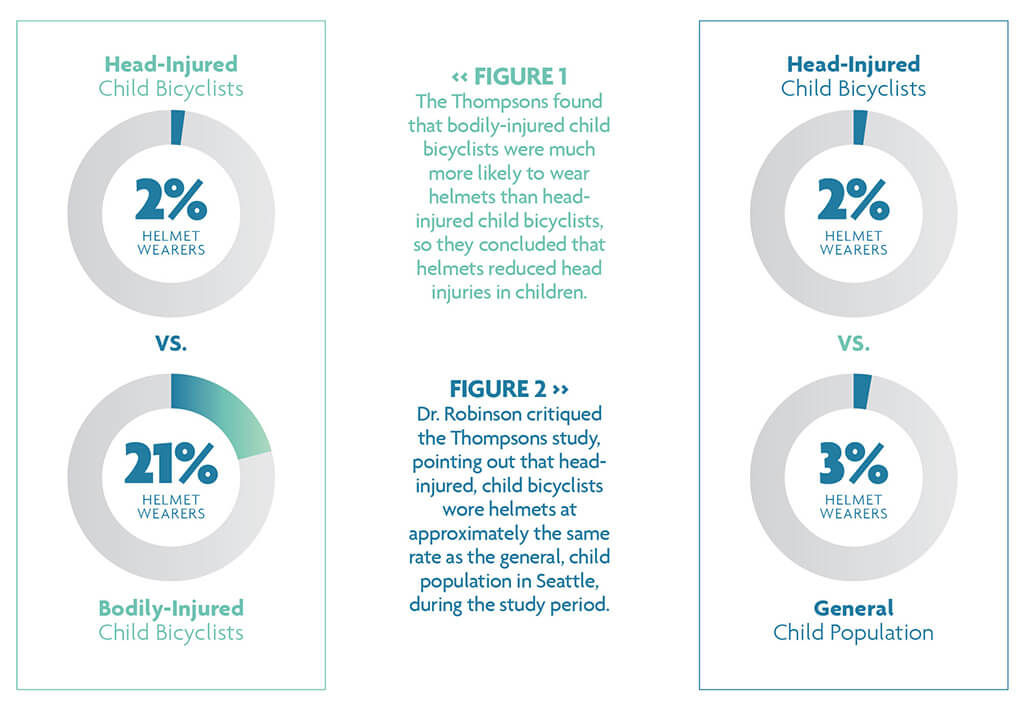 The Controversy Over Helmet Laws
Before the Seattle study became out-dated, health care and safety officials were arguing for helmet laws and governments around the world were responding. Australia and New Zealand passed mandatory helmet laws in the 1990s. At first they were touted as a success because bicycle injuries and fatalities dropped.
But researchers led by Dr. Robinson discovered that pedestrian and motorist injuries and fatalities were also dropping and that the decline of all traffic mishaps were coinciding with other more far-reaching road safety improvements, such as efforts to reduce drunk driving and speeding.
Moreover, Dr. Robinson was concerned by a drop in cycling that occurred after the helmet laws went into effect – a drop which alarmingly resulted in a higher rate of bicycle crashes per person. In effect, the reduction in drunk driving and speeding was one step forward for all modes of transportation but helmet laws were two steps back for bicyclists.
Today, proposed mandatory bicycle helmet laws in the US are nearly always dead on arrival and no state has yet passed legislation for adults. This is due to opposition from bicycle advocates who take the position that helmets should not be required due to reduced bicycling levels seen in mandatory helmet-law countries. As you'll see later, reduced bicycle riding is harmful for many reasons.
Recently in Canada, where half of the country's ten provinces currently require adult bicyclists to wear a helmet, researchers led by Dr. Kay Teschke at the University of British Columbia conducted a groundbreaking study that examined the effect of bicycle helmet laws. It incorporated surveys of bicyclists asking how often they ride, in addition to their helmet-wearing habits.
Researchers then compared this information to medical data and found that helmet laws had no effect on a bicyclist's chance of ending up in the hospital with a head injury. Whether a person lived in a mandatory helmet province with an average 67 percent helmet-wearing rate or in a no-law province with 39 percent of bicyclists wearing helmets, the chances any bicyclist would end up with a head injury were no different.
"Years ago, I would have never thought that a helmet law wouldn't make a difference," Dr. Teschke told me over the phone. "But over time, I have seen that putting on the helmet causes something mysterious to happen."
"The data [in studies such as those by the Thompsons] absolutely shows that helmets reduce the chance of head injury for bicyclists who have arrived at a hospital. But the mystery now is, why doesn't the helmet give you a lower chance of arriving at a hospital with a head injury accident in the first place? The helmet seems to cause us to do something that cancels out their benefits, and we're not sure what that is."
So Why Are Helmets Not More Effective?
It seems obvious if you hit your head on an object, a helmet will cushion the blow. So then why does it appear that wearing helmets has not given us a societal level benefit? For this, we need to take a journey into the world of sports helmets.
Enter Greg Ip, a Wall Street Journal commentator who wrote the book, Foolproof – Why Safety Can Be Dangerous and How Danger Makes Us Safe. He covers many counterintuitive ideas about safety devices, including the football helmet.
The football helmet wasn't introduced until 1939, more than half a century after football was invented. In the 1960s, when helmets were coming into greater use, Ip writes, "Football related deaths declined but the number of quadriplegics and broken necks went up."
He continues, "The helmet has changed players' behavior by allowing them to hit each other with their heads and when that happens the neck and spine form a single axis and the force of the blow is fully loaded onto the spinal column."
The game of hockey saw similar unintended consequences, after helmets became mandatory in the National Hockey League in 1979.
But in the sport of rugby, where hard helmets are not allowed, the rate of injury and death is lower than football. This is very likely because rugby players have never adopted the hitting energy and velocity of football players.
"Depending upon the activity, a helmet may allow you to take more risk," Mr. Ip told me in an interview.
So then let's more closely examine the activity of bicycling. We know that it is different from football and other contact sports in a variety of ways; for one, people bicycle on streets and trails.
Three Basic Theories by Researchers Point Out How Helmets Affect Our Behavior:
The first theory is of misplaced concern.
Head injuries make up a relatively small number of the total injuries to bicyclists, and on top of that, the likelihood of hospitalization due to a bicycling mishap is quite low. In the 5-year Canadian analysis of helmet wearing by Dr. Teschke, the rate of injury was 633 per 100 million bicycle trips. Viewing this data in a pie chart relays how exceedingly rare it is to be seriously injured or killed on a bicycle. You can't even detect the piece of the pie that puts you in the hospital:
But even if we take the position that 633 of 100 million trips is too high, only 25 percent of those hospitalizations involve an injury to the head or face.
Because the bicycle helmet is the main focus, citizens and public officials are largely distracted from addressing the bicycling injuries that are much more likely to happen – damage to the torso and extremities – which make up 82 percent of hospitalizations.
Simply put, all of this talk about bicycle helmets takes our eyes off the bigger crisis: injuries to everything south of the noggin.
The second theory is about speed.
Researchers sometimes call this risk compensation. A 2012 survey in Norway found that people who rode bicycles at higher speeds were more likely to be helmeted (as well as using other racing gear such as spandex, goggles, clip-in shoes, a superlight bicycle) and more likely to be involved in crashes. Slower bicyclists were not as accident-prone and because they perceived bicycling to be less risky, they were not as likely to wear helmets.1
This finding was backed up in 2013 by a video analysis study led by Mohamed Zaki. Researchers in Vancouver measured the speed of bicyclists at a roundabout, where helmeted bicyclists were found to be traveling approximately 50 percent faster than riders without helmets.2
Even though speeders may have fewer head injuries in the hospital, compared to the non-helmeted bicyclists who end up there as well, we must remember the theory of misplaced concern. They may be ending up in the hospital more often in the first place, dealing with injuries to the rest of their body, in part due to the psychological permission the helmet gives them to ride fast and more dangerously
The third theory is about safety in numbers.
Since there is evidence that bicycling drops when helmet usage is made compulsory, the total pool of bicyclists drops.
Peter Jacobsen, the most cited researcher regarding this theory, found in 2003 that motorists were less likely to collide with a bicyclist if there were more people riding bicycles – no matter the size of the city, the intersection, or the time of year. Since it's been shown that helmet laws are associated with a decrease in the number of bicyclists, the safety in numbers theory suggests that when there are fewer bicyclists on the road, motorists are more likely to collide with them.
Where Do We Go From Here?
Readers know that riding a bicycle is fun. I can tell you where my first $60 in the piggy bank went when I was 6 years old. It purchased a discounted, red, banana seat Huffy and I rode that bicycle up and down our driveway and into town until my knees couldn't take it anymore!
When adults who haven't ridden a bicycle since childhood experience it again, they feel a renewed sense of excitement, freedom, and adoration for the bicycle.
We all know that daily activities carry the risk of injury: driving a car, walking down a flight of stairs … but there is scant evidence showing that bicycle riding is any more dangerous than those things. Bicycling is about as safe as driving a car and walking down a sidewalk and is safer than running or playing basketball or volleyball. What sort of message would it send if we had laws or campaigns promoting helmet use in those other daily activities?
We all know that one of the biggest barriers to bicycling for many is the fear that it is not safe, a fear that is perpetuated by questionable research and emotionally charged pro-helmet language: to wit, the '89 Thompsons study concluded non-helmet wearers would risk "not being able to think or talk because your head has been pounded to jelly".
Rather than focusing on the dangers of injury, we need to be promoting the freedom of bicycling which gives people the ability to make short trips in cities and towns without having to deal with the headache of parking, traffic jams, and expensive mechanic bills.
Bicycling is also about that mental health boost that we all need on a daily basis. Pumping your legs to get a bicycle moving, gliding down a slope, and feeling the wind on your face is better than any prescription.
We should also be doing everything we can to get more people bicycling: the risk of injury is far outweighed by the health benefits every person gets when they ride and in higher numbers, fewer people get killed! Life span has long been known to increase substantially when people ride bicycles.3 Plus there are numerous community and environmental benefits when more people are bicycling on the road.
Most of us couldn't be forced to bicycle at the edge of a busy highway or urban arterial street without some form of protection. When the topic of bicycle safety does burden conversation, we should be arguing for bike paths, protected bike lanes, and traffic calming – not focusing on the bicycle helmet.
Teschke argues, "I wouldn't send my daughter into a bad situation. Any mother or health care professional should be begging for separate space, because that is what our study found actually lowers the chances of injuries. This helmet thing is a huge, huge diversion of very smart people's time and energy."
As I was interviewing the Thompsons, they reminded me of what makes helmets so attractive. One of them said, "Helmets are an easy solution to make things safer."
But now that we are decades into the research, we are learning that the easy solution isn't always that effective. While carefully engineered bike infrastructure and traffic calming may be more difficult to accomplish, they will do more to improve our long-term well-being than a helmet ever can.
There's a lesson we can take from the ever-improving aviation industry, which Greg Ip writes about in his book. Airlines are very careful not to talk about safety problems, due to the damage this can cause for their bottom line. But when a safety problem does occur, Ip says, "the law requires the (American) National Transportation Safety Board to investigate the accident."
This attention to detail results in constant safety improvements and thorough investigations are bolstered by anonymous reporting opportunities. The Aviation Safety Reporting System allows air traffic controllers, pilots, and flight attendants to submit near misses and then publishes their lessons online for everyone to see.
Our goal too, should be improved safety for bicyclists. But we shouldn't be distracted by one visible device that takes our eyes off of the big picture.
As Ip said in a recent radio interview, "Don't overuse the tools that we have. Allow a little bit of background risk to take place so that the tools we have remain powerful for the times we really need them."
He continues, "There is a saying in the safety research industry: Sometimes you want to be a little bit scared … so you're always aware of what's out there, and that awareness will create an attitude of more precautionary behavior."
Next time you ride a bicycle, whether you choose to wear a helmet or not, remember that the bicycle gives each of us the ability to explore our world. We should all be ambassadors for the bicycle and be mostly unafraid to ride it, just as we are.
---
Shaun Lopez-Murphy lives with his husband on their farm in Wisconsin's Driftless Region, where bicycles come in handy when the cows get out. He is a transportation planner with Toole Design Group. You can follow Shaun on his Twitter account @shaunmurphywi
Autumn Gear Guide
Find inspiration in our Gear Guide that will keep you out on your bike through wind or rain.
Download Now