August 6, 2015
Fitbit Surge Fitness Watch Review
We review the Fitbit Surge fitness watch.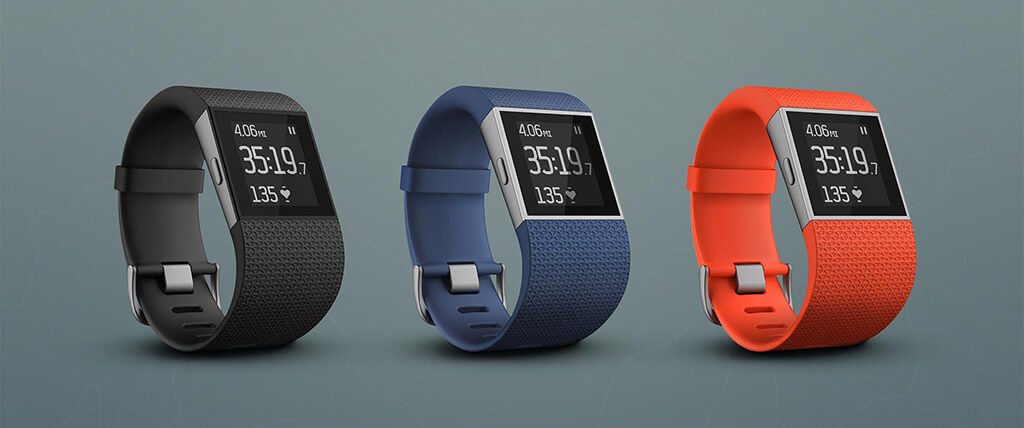 PRICE $249.95 USD/ $299 CAD
FIND IT AT fitbit.com
The Fitbit Surge is a fitness watch that offers GPS, continuous wrist-based heart rate, all-day fitness tracking, and smartwatch functionality. Multi-sport modes allow users to easily record running, cross training, cardio workouts, and now biking, which automatically sync wirelessly to the Fitbit account. Users can view workout summaries within the mobile app and online desktop. The Bike feature allows riders to swipe through distance, duration, average speed, heart rate, and calories burned right on the wrist. Bike summary stats include distance, duration, average speed, map with route taken, speed line graph, calories per minute, heart rate graph, heart rate time in zones, elevation profile, and impact on daily stats: calories burned and active minutes.
TELL YOUR FRIENDS
The Fitbit Surge is a heart rate monitor and GPS route tracker all in one easily wearable watch. The recently added Bike function allows you to track daily workout rides or commutes and compare performance over time. The watch is easy to use and features a 3-button interface and touch screen allowing you to navigate through tracked information including heart rate, steps taken, and, of course, the date and time. The black watch is attractive though very sporty and features limited smartwatch functionality that displays text messages and incoming calls when paired to a smartphone via Bluetooth. Bike tracking now syncs automatically with Strava.
WISH LIST
Packing GPS tracking, a long-lasting battery, and a heart rate monitor into a watch creates some extra bulk. While the watch is no larger than other sport watches I've used in the past, and has no real noticeable weight on the arm, it tends to be thicker, which made it slightly uncomfortable to wear with long sleeves.
SUMMARY
Fitness trackers are all the rage in wearable tech, but I wasn't sure if the Fitbit Surge would be something I'd actually use for more than an initial trial. At first, the thickness of the watch face made it feel uncomfortably bulky, but I hadn't actually worn a watch in years and the discomforted quickly went away. Using the watch is fairly straightforward and surprisingly intuitive. After setting up my account and inputting some goals into the app desktop, I was able to start tracking pretty much all of my daily activities. From meals ate to water consumed, I could input as much information as I wanted while the watch automatically tracked my steps, heart rate, and sleep.
For workouts, activating one of the many specific functions was a simple simple swipe and click to start and stop. On runs and bike rides, the Surge first locates a GPS signal, which sometimes happens right away and at other times has taken up to 5 minutes. Running or riding through places with tall buildings hasn't messed up the GPS tracking feature, which is an improvement over tracking on my smartphone.
While the watch could comfortably be worn all day to track all movements, I find I only really use it for workouts. With an Android phone, the Google Fit app tracks my steps and knows when I'm traveling on foot, by bike, and on transit or in a car, so I have ready access to this information without having to wear a watch. Fitbit allows multiple trackers to connect with one account, so if I wanted a lower-profile tracker for non-workouts the option is there.
During exercise the Fitbit Surge works really well. When a workout function is selected the screen displays a good selection of information and allows quick access to more by swiping the touch screen. As someone not actively training for any sort of sporting event, I find my focus is on the road ahead, though stop lights do provide an opportunity to check in on stats and perhaps find a little motivation to ride or run a little faster.
Having tracked my workout rides on Strava for over a year I was thrilled to see Fitbit's integration with the platform. Wearing the Surge watch on rides has made tracking workouts much easier and the addition of the heart rate info is very nice to have. While Fitbit's summary interface is useful and easy to read, I had already built up a large collection of information and a small social network on Strava, making integration all the more pleasing.
After several months of use I have found battery-life to be better than I expected. Fitbit claims the battery will last up to nine hours while using GPS, so I've been able to go several days and on several long-ish rides on one charge.
Overall, the Fitbit Surge is a surprisingly easy to use and wear fitness tracking watch that provides consistent results when it comes to tracking. While fitness tracking may not benefit the everyday cyclist, the GPS and heart rate monitoring features are both great records of athletic adventures and strong motivators to continue adding activity to my daily life.
Autumn Gear Guide
Find inspiration in our Gear Guide that will keep you out on your bike through wind or rain.
Download Now