January 4, 2016
Green Guru Touring Townie Handlebar Bag Review
The Touring Townie is an upcycled, weatherproof and insulated handlebar bag.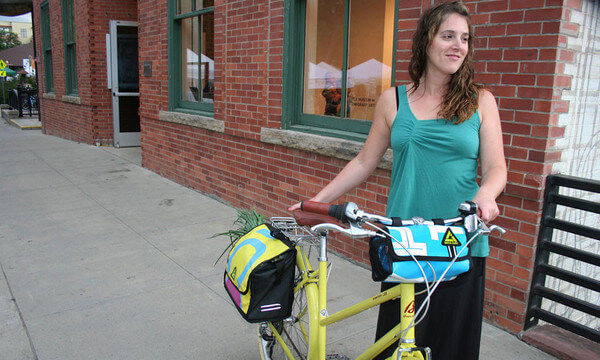 PRICE $37.95
FIND IT AT greengurugear.com
The colorful and unique Touring Townie handlebar bag is a universal-mounting handlebar bag made of upcycled billboards. It is 9.5 L x 5 H x 5 D in. (241 x 127 x 127 mm), has a 237.5 cu in. (3.8 L) capacity, and is insulated and water-resistant.
TELL YOUR FRIENDS
I love this little bag. It's big enough to hold a few cans of beer and a small snack, or your wallet, camera, phone, keys and whatever other small item you might need for the day. The mesh webbing on the side is a super easy drop-spot for your keys if you're making a lot of stops and have to be constantly grabbing them and putting them back to lock and unlock. It's easy to attach and detach, and I feel comfortable having electronics in it in a light rain. The color is really fun, and I like that each bag is unique since it's upcycled.
WISH LIST
I usually carry my phone in the bag, so I occasionally wished the top flap opened the other way (away from the bars rather than towards them), so I could easily access my things from the saddle. But I recognize that would compromise the water-resistance so that's probably a bit dumb, and I should really just pull over when my phone rings. Other than that, a detachable shoulder strap would be nice.
SUMMARY
All in all, this is a great bag. It's a generous size for a handlebar bag but not so big that it gets in the way. It's distinctive and fun, and the insulation and waterproof factor make it an excellent beach bag for short trips, or for toodling around the city when you only need the necessities.
---
Hilary Angus is the Online Editor at Momentum Mag. She commutes year-round by bike. @HilaryAngus
Autumn Gear Guide
Find inspiration in our Gear Guide that will keep you out on your bike through wind or rain.
Download Now