October 20, 2015
Kona Coco Women's Commuter Bike Review
We review the Kona Coco, a step-through frame commuter bike.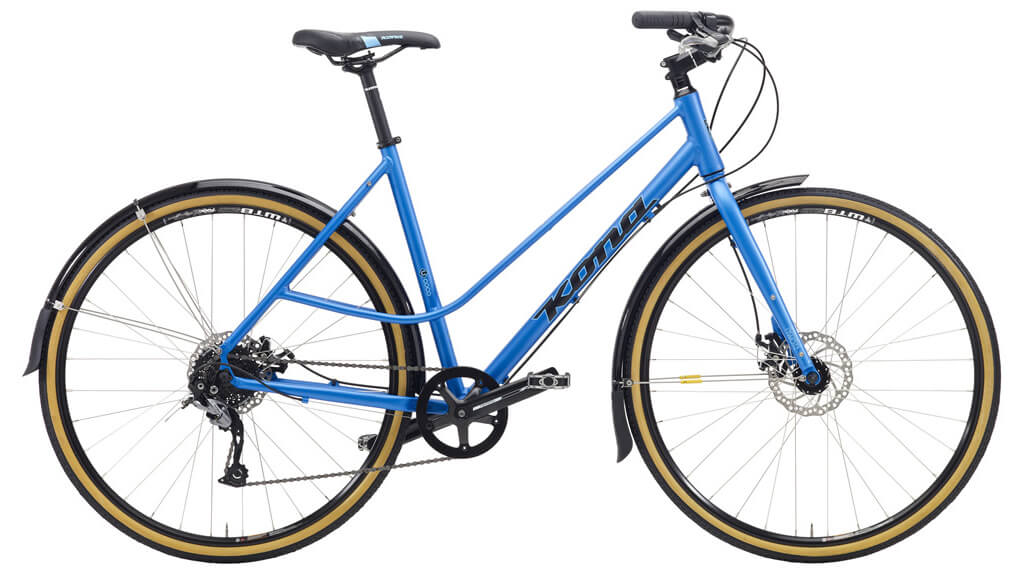 PRICE $699 USD / $775 CAD
FIND IT AT konaworld.com
The Kona Coco is a aluminum-frame mixte-style commuter bike with a Shimano 9-speed drivetrain, disc brakes, and fenders.
TELL YOUR FRIENDS
I like Kona bikes. So when I was offered to test drive the Kona Coco, I guessed that it was going to be fun. And it has been.
I find Kona bikes incredibly rideable and their commuter-style bikes are very city friendly for a bunch of reasons. First, the handlebars are positioned so that the rider is slightly upright. For me, this encourages riding that is less focused on making a good time and more on making believe I'm the Queen of England. This ride put me in a good position to look around at the blossoming Cherry trees and Magnolias these last months. But don't misunderstand, occasionally I was in a rush, in which case I was easily able to stand on the peddles and use those handlebars to make the bike go. So there was a nice balance that way.
I love that there is no front derailleur since I'm not hugely efficient with more than 10 gears anyway so this 9-speeder is just my speed. The shifter is easy to use on the right handlebar and the integrated bell is above the brake lever on the left.
The disc brakes were responsive, the fenders were fabulous and the saddle had just the right amount of squish.
WISH LIST
The step-through frame threw me for a bit of a loop. There's no stopping at a red light and letting the top tube lean against your thigh. And still, I mostly throw my leg up and over as though there is some invisible top tube that I need to clear.
While I need a rear rack on any bike I ride (for my orange detachable basket), the rack on Coco has a hinged jaw-bit that just got in the way and added unnecessary weight. Also, while some poo-poo a kickstand, I find them quite delightful except when they need to be tapped in slightly with my foot at the start of every ride because the pedal knocks it each time around. Also, Coco is no feather weight – she's a bit on the heavy side and sometimes unless on perfectly flat ground, the kickstand could not hold her up.
SUMMARY
The only real downside to the beautiful Coco is that she is beautiful. I wouldn't go so far as to say that I hate her because of her beauty but I do find having a beautiful bike risky. I've 'lost' two locked up Konas already and think if they looked like dirtbags they might be passed over.
All told the Coco has been a dream to ride. I love moving around town on a local bike that has European sensibilities. Which is exactly what the Queen of England requires.
---
Marnie Goldenberg is a sex educator and all around consultant to the not-for-profit sector. She writes a blog for parents who want to raise sex smart kids at sexplainer.com. You can find her on twitter there for sex ed related stuff or @marniegold on all the other stuff.
Autumn Gear Guide
Find inspiration in our Gear Guide that will keep you out on your bike through wind or rain.
Download Now