February 21, 2015
Kryptonite Evolution Series 4 STD U-lock Review
Momentum Mag reviews the Kryptonite Evolution Series 4 STD U-lock.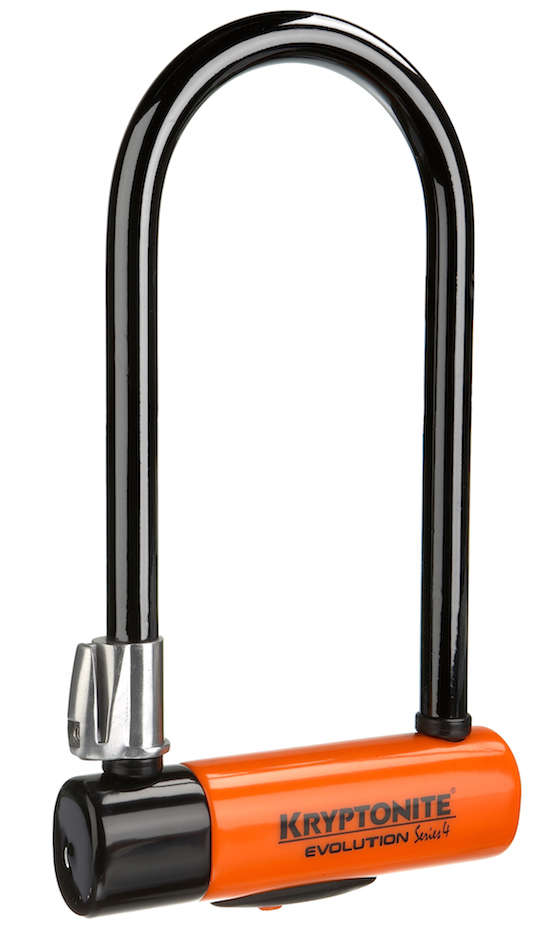 PRICE $76.45
FIND IT AT kryptonitelock.com
The Kryptonite Evolution Series 4 STD is a standard U-lock with an 8 out of 10 security rating. Kryptonite provides a one-year anti-theft protection offer that requires registration within fifteen days of purchase. The lock weighs 3.75 pounds (1.7 kilograms) and is 4" by 9" (10 cm by 23 cm) in size.
TELL YOUR FRIENDS
The Kryptonite Evolution Series 4 STD is a reliable, no frills U-lock. I have used the lock for over a year with absolutely no issues. There is no wear and tear on the lock, and no keyhole sticking issues after using it for an extended time. The arc of the shackle is great for finding a variety of lock-up spots and it easily fits around the wheel and frame on a step-through city bike.
WISH LIST
I attach my Kryptonite lock to my rear rack through the shackle. It would be nice to purchase a sturdy lock like this with an integrated bike attachment mechanism. I am not fussed by the color of the lock, but it is a bright orange like all kryptonite locks and can be an undesirable color. I don't lock my bike outdoors overnight, so the security rating is a little high for my usage. Purchasing a lock specific to the rider's needs is very important because a lock with a high security rating tends to be a bit heavier. I don't have to carry my lock around, it is always attached to my bike, so the weight does not bother my routine.
SUMMARY
Kryptonite has a great reputation for simple, durable locks. I never have any worries leaving my bike locked in public. It is a great high-security lock for daily use.
Autumn Gear Guide
Find inspiration in our Gear Guide that will keep you out on your bike through wind or rain.
Download Now