March 1, 2016
Patagonia Women's Torrentshell Rain Pants Review
The Torrentshell, available in men and women's, are a lightweight packable rain pant that can be pulled on over boots.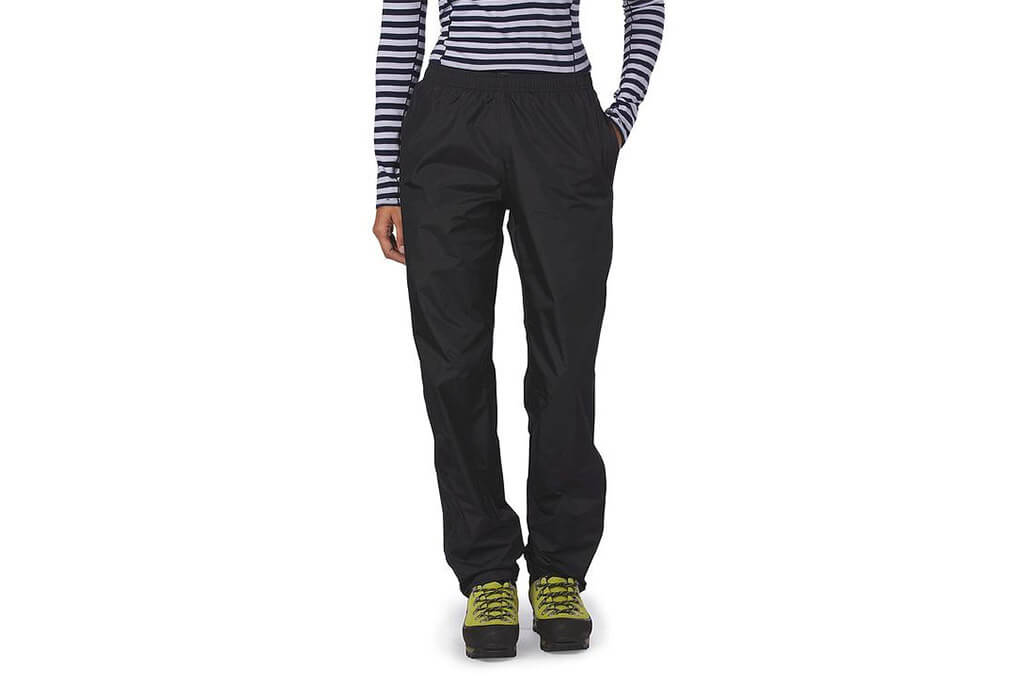 PRICE $99 USD
FIND IT AT patagonia.com
From Patagonia's website: Packable rain protection that pulls on easily over boots, the Torrentshell Pants now take a responsible step forward with a new 100% recycled nylon face fabric; waterproof/breathable H2No® Performance Standard reliability. Fabric is bluesign® approved.
TELL YOUR FRIENDS
First and foremost, the pants are completely waterproof. I've been riding in them almost daily through the rainy Pacific Northwest Coast winter, I have yet to treat them with anything and haven't noticed any reduction in their waterproof quality. They roll down to the size of a burrito, and their weight is negligible, which is great for those of us who already have too much to carry around. They're light to carry, and light to wear. I don't notice that bulky, crinkly sensation that you get with a lot rain pants when riding and they don't restrict my movement at all, although they do of course make that swishing sound when you walk around in them. The ability to take them on and off over boots is a huge bonus. There have been a few times when I've packed them in my panniers in case of rain, and have had to pull over to put them on halfway to my destination. Once you pull them on, the zipper and strap at the ankle maintains the waterproof quality of the pant. For a pant which seemed quite "plasticky" when I took it out the bag, they are surprisingly breathable. I've ridden largely uphill in a not-too-cold rain for an hour in them, and not noticed my legs being significantly warmer than any other part of my body.
WISH LIST
Since the Torrentshell pants are designed more for mountaineering than cycling, most of my complaints with them come from a lack of cycling-specific features. Which is minimal, and more a critique of my own decision to ride in mountaineering pants. But alas, many people buy one pair of pants for multiple activities, and since the Torrentshell pants are still a great choice for cycling, we thought a review of them couldn't hurt. Main downsides: the ankle is not super tight even when strapped up. They have yet to actually get caught in my chain, but I get the feeling they could one day. They don't have any reflective features, which again is because they're not designed for cycling. Lastly, they're not the most flattering pant in the world. They're a little bulky around the crotch, and a little slimmer fitting on the thigh, which is something to keep in mind if you have larger cycling quads. That said, they're rain pants, nobody wears rain pants to look good. (I hope).
SUMMARY
For a pant which wasn't designed specifically for cycling, the Torrentshell are an excellent choice for heavy rain commutes, and great to keep in the bottom of your panniers for whenever you need them. They're a simple, no-nonsense design with a few features to improve their convenience. The fact that Patagonia has such a strong commitment to environmental and social responsibility in their manufacturing adds on a little feel-good bonus to your choice.
---
Hilary Angus is the Online Editor at Momentum Mag. She gets everywhere by bike in the (neverending!) rain of Vancouver, BC. @HilaryAngus
Autumn Gear Guide
Find inspiration in our Gear Guide that will keep you out on your bike through wind or rain.
Download Now