March 1, 2016
GT Traffic 1.0 Commuter Bike Review
The GT Traffic 1.0 is a sporty commuter with a surprising amount of features at a reasonable price point.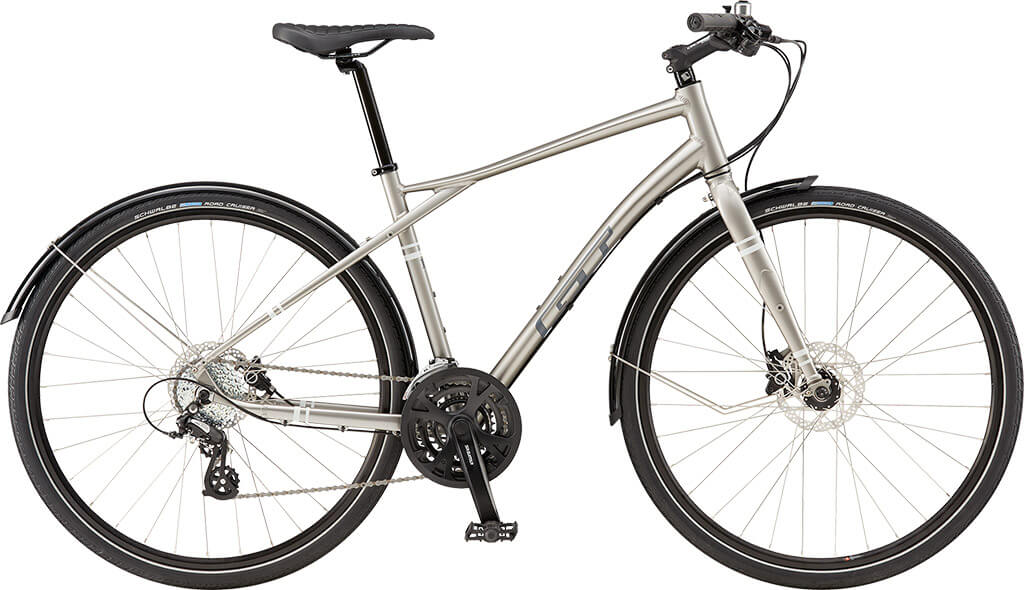 FIND IT AT gtbicycles.com
PRICE $660 USD / $770 CAD
The 2016 Traffic 1.0 is one of the multi-purpose bikes that make up GT's Pavement lineup. Considered to be their most 'capable commuter,' the bike comes standard with fenders and is built with a lightweight, hydroformed aluminium frame. The Traffic 1.0 features GT's Triple Triangle frame design giving the bike improved durability and responsiveness. Additional specs include Shimano hydraulic disc brakes and Schwalbe Road Cruiser tires with puncture protection.
TELL YOUR FRIENDS
I have been using the Traffic 1.0 for my everyday commute and this bike has proven to be more than just a capable commuter. The Traffic 1.0 is fast and fun to ride. Acceleration is almost effortless with the light aluminum frame and smooth transition between gears. The standout feature for me has to be the disc brakes especially since I am testing this bike in a hilly city that gets a lot of rain. Being able to rely on your bikes to make a sudden stop even when going downhill in the rain makes this a trustworthy ride and gives you the confidence to ride year round. The slightly recessed handlebar puts you in a comfortable riding position and offers plenty of control. The Traffic 1.0 also comes standard with fenders and rack mounts so there really are no excuses for not ditching that car. The new GT Traffic saddle that comes standard with the bike is also one of my favourite looking seats, and comfortable on the long haul.
WISH LIST
Even in a hilly city loaded with groceries I only used half of the 24 gears available. My preference would be fewer gears and having a greater difference in cadence between shifts.
SUMMARY
The Traffic 1.0 is a quality bike that comes standard with features you may be surprised to find on such a reasonably priced bike. The sporty build is a fast pavement bike made for the rain or shine. The disc brakes and durable frame will give you the confidence to ride in the worst weather without a second thought.
Autumn Gear Guide
Find inspiration in our Gear Guide that will keep you out on your bike through wind or rain.
Download Now