September 20, 2016
Schwinn Scorch 16″ and Breeze 20″ Kids' Bikes Review
The Schwinn Smart Start kids bikes will inspire confidence with their comfortable riding position.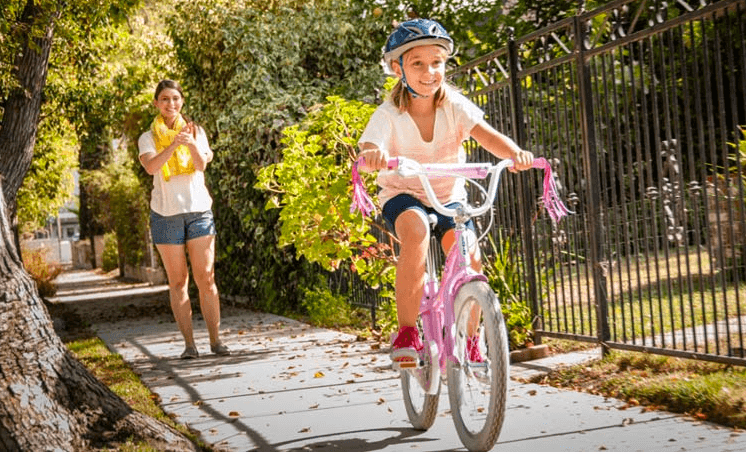 FIND IT AT schwinnsmartstart.com
Both Schwinn Scorch and Schwinn Breeze bikes are part of the Schwinn Smart Start lineup.  The Smart Start bikes have their pedal positions moved forward which should increase the leverage making it easier to pedal. Ever worry that your kids will take off on you?  According to the Schwinn Smart Start website, these bikes have fast-start gearing that also reduces top speed,  meaning they can start quickly and you can stay next to them once they get going. These bikes come with  smaller grip diameters for smaller hands to hold help with control and narrow pedal positions that match the width of a child's hips, which help produce a stronger pedal stroke. The Scorch fits children 3'2″ to 4′ while the Breeze fits children 4′ to 5′. Both models come as single-speed bicycles. These are bikes that will get your kids excited to ride.
TELL YOUR FRIENDS

Once the bikes were built up, my kids would not stop asking to ride them. Sized on the bigger side of size for their wheel size, ensure that you that they are the right size for your kids otherwise you'll be pushing them around to get them going, because you can't stop them from wanting to get on them .  They come in an upright riding position, you could even say 'chopper" like position with  a  pouch on Breeze to carry the latest TY you didn't buy but somehow your kid has 3 and some blazing plate on the Scorcher.  These are one of the few kids bikes that we've tried that are outfitted with a kickstand.
The bikes come with training wheels, but as a Momentum Mag rule, we always recommend throwing the training wheels out and letting your kids to ride without the pedals until they are comfortable on the bike before adding the pedals.  Training wheels are regressive.  Keep those away! But for those of you who see training wheels and remind you of the good old days when you could ride your bike everywhere lopsided, then they are there for nostalgia.
Both bikes have a hand brake and pedal brake options, giving the kids the opportunity to practice their hand braking but still being able to rely on the back pedal if they're hands are not quite big enough to to pull the hand brake with ease.
WISH LIST
I don't believe in gendered bicycles – for children or adults – and even though admittedly my daughter absolutely loved the pink bicycle and my son was a huge fan of the flames on the scorch, I wish there were less specifically gendered color/themed options.
As a parent who frequently has to transport my kids' bikes around, either on the back or a cargo bike or up hills too big for little legs, these bikes are on the heavy end of the spectrum.  But if you are rolling out of the house and to the park,  cruise the Breeze and Scorch on over.
SUMMARY
For the budget-conscious customer looking for a bike that will make your kid(s) excited about riding, the Schwinn Breeze and Scorch have done that. They're fun, comfortable and bring a smile to every kid that rides them.
Autumn Gear Guide
Find inspiration in our Gear Guide that will keep you out on your bike through wind or rain.
Download Now