October 16, 2012
How To Find Bikes for Tall People
Chris Schroeder is tall. Very tall. And he's looking for a bike that fits to help him navigate the hills of San Francisco.
Finding the right bike is exciting. The world is your oyster but first you have to decide what kind of bike is right for you. Do you need a sturdy touring frame, light road bike, svelte single speed, or a casual cruiser? Not since your "experimental" phase in college have you felt so free to define who you are. This bike is going to change your life and you know it. Well, that is unless you are tall. Very, very tall. In that case, with a snap, the oyster closes and you hear yourself asking your bike mechanic: "Which of these bikes are available in a 62 cm frame and how long will it take to special order it? Oh. Only in brown? Ok fine." Your choices are limited, you're tall and you need a bike.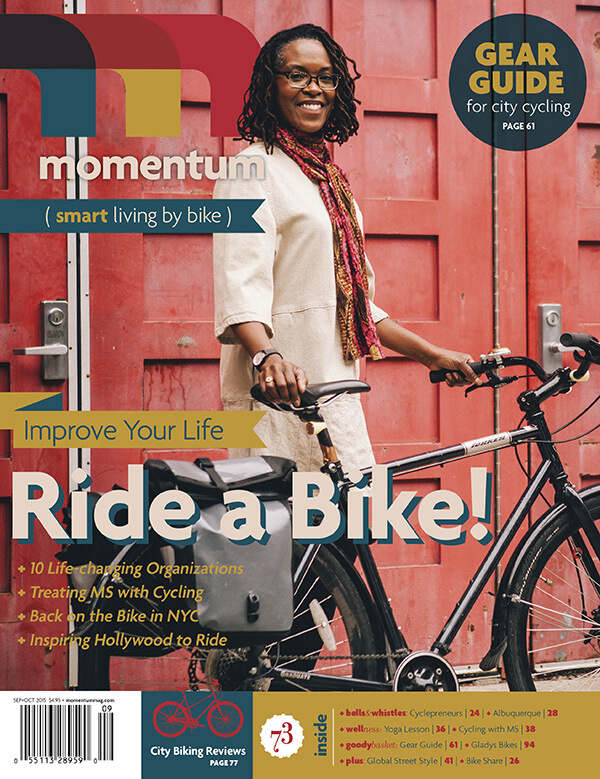 Try a free 1-year digital magazine subscription to Momentum Mag. Sign up today.
I live in San Francisco, CA and my bike of choice for the past two years has been a Fuji Feather. It's amazing, light and fast. But it's not that great for long rides. I'm 6'6" with a 37-inch inseam and a regular-if-not-short torso. Help! I need a versatile road bike that will take me on the occasional long ride. To see what options exist, I stopped by American Cyclery where they built up a beautiful 62 cm Raleigh Clubman for me to test. The question remains: Is this the right bike for me?
I've reviewed several bikes trying to find suitable options for people with a 37-inch inseam like mine. Find my first reviews and tips here:
Review of the Raleigh Clubman
How to Choose the Right Handlebars
Soma ES Bike Review
How to Get Custom Fit for a Bike
Rivendell A. Homer Hilsen Review
Raleigh Clubman Review
---
Chris Schroeder is the director of sales and marketing for Rickshaw Bagworks. He has lived in the Bay Area for 13 years and developed a passion for bikes, plants, coffee, print design, and bags – and spends time working with organizations that foster community development like PaperGirl SF, the SFGMC, and SFMade. @ReallyTallChris rickshawbags.com
Momentum Mag Shop
A curated shop with a distinctive mix of bike gear and clothing worthy of the urban rider.
Shop Now