August 16, 2018
How to Transition From the Bike to the Office in 10 Minutes
One of the big barriers for people new to bike commuting is what to do once you actually arrive at work.
The benefits of commuting to work by bike are well known and plentiful — it's fun and offers improved focus, a built-in exercise routine, and a cheaper gas bill, just to name a few of the perks.
But one of the big barriers for a lot of people new to bike commuting is what to do once you actually arrive at work. How do you transition from your bike ride to a full day at the office? Won't you be gross and sweaty? How do you carry everything you need? What do you need?
If you plan ahead, bring the right gear, and have a course of action ready, you can effectively transition from the bike to the office in 10 minutes or less. Let's take a look at how it's done:
Gearing Up
The first step in preparing for your commute to work is collecting the right gear for your journey. You don't need an arsenal of expensive items, but you do need the basics to be a safe and happy commuter.
With your workday in mind, think about the clothing you'll need to be comfortable on your bike ride to and from work. It will likely be colder in the mornings and you'll probably have a hotter commute in the afternoons when you're headed home. What's the temperature in your office like? Think about all these factors when you plan your riding and working outfits.
Most of the time, my morning commute is cold enough that I can bike in my work clothes and not get too sweaty. I always pack a pair of shorts and a T-shirt for my ride home, though, when the temperatures are often 100 degrees in the summer. You might have to ride to work for a day or two before you find out what works for you.
In addition to appropriate clothing, I also always make sure I have a pair of sunglasses to protect my eyes from the harsh glare of the summer sun. Even on cloudy days, being unprotected in the sun can cause overexposure of UV rays. In winter I have a pair of goggles and gloves at the ready in case I get caught in a snowstorm while pedaling home. Eyewear is my personal never-leave-home-without-it item. You'll likely figure out yours pretty quickly when commuting.
Another option to consider is a breathable helmet, which is nice in warmer months as it can keep your head from getting excessively sweaty. In winter, wearing a hat under your helmet, or even wearing a ski helmet in extremely cold temperatures, can make biking to work still accessible.
I like to keep a running checklist of all the gear I need for my ride and my workday and go through it each night when I pack my bag. The list changes seasonally, so it's nice to hone in on exactly what you need to have. Eventually, you won't even have to think about it.
Planning Ahead
In addition to gear, there are a few other things to think about when preparing to commute to work by bike. How will you get "work ready" once you arrive? Several key questions can help provide an answer to this question:
Does your office have a shower that you feel comfortable using? Is there a place you can keep a fresh set of work clothes and toiletries, or will you bring them back and forth with you each day? Also, always check the weather the night before. Will you be commuting in the rain? Will it be 100 degrees at 5 p.m. when you leave?
Knowing the answers to these questions will allow you to plan effectively and ease concerns about the unknowns of your bike commute and transition to the workspace ready to go.
Speaking of ready to go — you should carefully calculate your morning departure time. If you would normally arrive at work five minutes before you needed to clock in, add another five to 10 minutes onto that when you bike,  giving you the time you need to get ready for the day ahead. You may realize that leaving earlier is not necessary as studies are proving that urban cycling is actually faster than other modes of transportation when traveling within a city.
You never know when you might get a flat tire or have to stop for a huge flock of geese, and there's nothing worse than having your bike commute ruined because you're stressed out about being late!
Securing Your Gear
Since bike commuting involves some variables like weather, your energy level, and traffic, it's a good idea to develop a clear game plan for when you roll onto your office grounds. Where will you park your bike? Is your bike lock accessible? How is your commuter bag packed, and is it easy to transport what you need into the office?
Having a solid plan for your bike and gear will stop you from bumbling around with exploding panniers and bike gear covering your desk when you get to work. Also the last thing you want to do is worry about if your bike is safe or not parked outside. If you're worried about this, ask your office manager if there's an out-of-the-way spot inside you could store your bike. Most people will be excited you're biking to work and will do what they can to accommodate you.
Dealing with Yourself
Cardiovascular exercise, like biking to work, is necessary for a healthy body — especially in a world where many of us spend our days being sedentary at a desk. Bradley University cites studies that link the obesity epidemic plaguing our country to lack of daily activity and movement.
Biking to work is a great way to combat this epidemic. It also means that you'll likely get sweaty, and that's the last thing you want before you start a full day in the office.
Plan ahead and bring some cleansing wipes, deodorant, fresh clothes, and whatever else you need to be comfortable and professional during your day. Extra water will likely be helpful too, as you expend much more energy biking than you do driving!
Biking to work isn't so intimidating when you have a plan. Time yourself the first time you commute and see how long your transition takes. That way you'll know exactly how much extra time you need. By collecting the right gear and planning ahead, your bike-to-desk transition will be a breeze.
---
Lettie Stratton is a writer and urban farmer in Boise, ID. A Vermont native, she is a lover of travel, tea, bicycles, plants, cooperative board games, and the outdoors. She's still waiting for a letter from Hogwarts.
---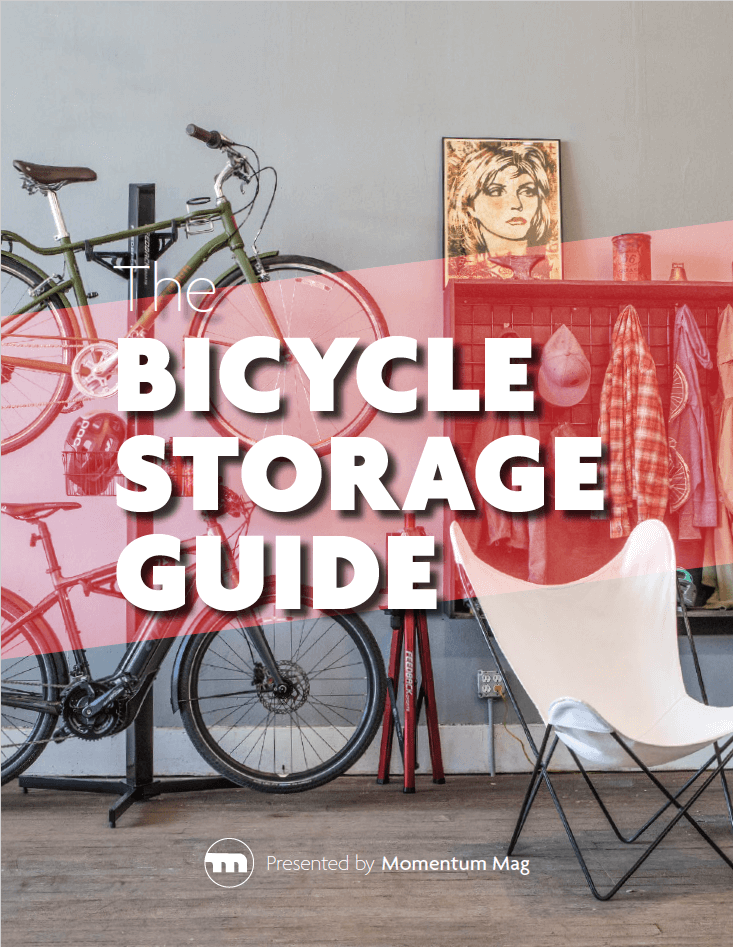 ---
Autumn Gear Guide
Find inspiration in our Gear Guide that will keep you out on your bike through wind or rain.
Download Now