February 2, 2015
Andrea María Navarrete on Women and Cycling in Colombia
Through her organization, Mujeres Bici-bles, Navarrete works to encourage more women to ride bikes in her hometown of Bucaramanga, Colombia.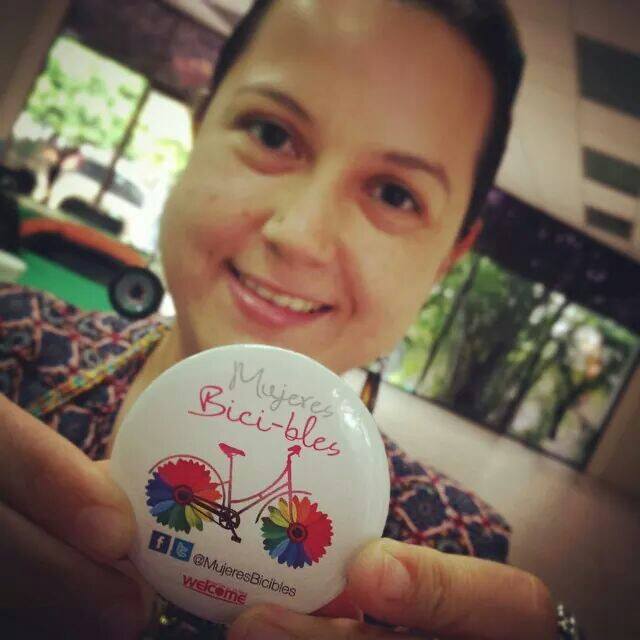 Photo by Miguel Asa
"The bicycle has managed to be a true instrument for social change," said Andrea María Navarrete. "It was one of the first vehicles that women were able to access. In a time when traveling without accompaniment was unthinkable, the bicycle gave us the ability to control our own mobility."
Navarrete is the founder of Mujeres Bici-bles (roughly translated as Women Bike-able), a small non-profit organization which works to encourage more women to ride bikes in her hometown of Bucaramanga, Colombia.
The city is home to over 530,000 people but, as Navarrete noted, not a single bike lane. Public policy that favors automobile traffic, a lack of recognition of the bicycle as a viable transportation mode, a hot climate, and a relatively hilly terrain all contribute to a car-centric transportation culture that sees bicycles used for mobility by only a small fraction of the population.
For women, the hesitation to ride a bike is even more pronounced. "I believe that there's a false idea that the bicycle belongs to the street and the women belong to the house," Navarrete said. "Further, this society infuses us with a lot of fears about the street, walking alone out there, maybe we are 'unprotected' or 'exposed.'"
It's these fears and patterns of behavior that Navarrete is trying to change. She has been using a bicycle as her principal means of transportation since she began University in 2004 and she says the experience has been transformative, noting that "each female cyclist has full autonomy."
Along with the other members of Mujeres Bici-bles, Navarrete conducts cycling education workshops and teaches young women how to get around the city by bike. By leading by example and spreading a positive message about urban cycling, she helps women overcome some of the social stigmas and psychological barriers that prevent them from riding bikes.
In February 2015, Navarrete will be bringing her message to the World Bicycle Forum in Medellín. This year's forum, themed "Cities for All," will see policy-makers, bike advocates, and community members gather together to exchange ideas on the future of cities as safe, equitable spaces for all people, with the bicycle as a focal point for this transformation.
Navarrete's talk will focus on the bicycle's ability to transform individuals and communities, and on the failure of a car-centric mobility model from both a social and environmental perspective.
Along with the organizers and other attendees at the forum, she would like to see politicians begin to take urban cycling seriously in her community. Although there have been significant improvements in public policy and infrastructure that supports urban cycling in cities like Medellín and Bogotá, the rest of the country still has a long way to go.
Navarrete would like see the replication of cycling-positive policies in Bucaramanga and elsewhere. "I'd like to see cyclists more protected by the state, not only guaranteed space for movement, but also to see our rights protected as users of the roads, but furthermore because we are the only ones who are caring for the city and not harming the environment."
---
 You can follow Navarrete and the work she's doing on the Mujeres Bici-bles Facebook page or on Twitter @MujeresBicibles.
Autumn Gear Guide
Find inspiration in our Gear Guide that will keep you out on your bike through wind or rain.
Download Now