February 22, 2015
The Right and Wrong Ways to Lock Your Bike
How to lock your bike up to prevent bike theft – riding home without a seat is embarrassing, riding home without a wheel is impossible.
By Anne Mathews
Illustrator: Thomas James
A man sauntered into our neighborhood bike shop and examined the display of locks. He hefted the most impressive one, a massive, heavy chain, looked at the price tag and frowned. "I don't know if I can afford it," he said to the shop owner.
"Can you afford to have your bike stolen?" the owner replied.
This is, in a nutshell, the basic logic of bike security. Bikes are light and easily transported, convenient qualities not only for bike owners, but also for bike thieves. So it's worth taking a few simple steps to keep your ride locked down when you aren't around.
Once you've decided to secure your bike, you'll need a lock. There are several good options out there, depending on your needs.
Lock in hand, you'll next need to decide what to lock to. In many cities, entire neighborhoods lack dedicated bike parking. When racks or locking posts aren't handy, streetlamps are a decent option – as are sturdy street signs over six-feet-tall, or short parking meters with enough bulk at the top to frustrate thieves. Avoid locking to flimsy trees, bushes or removable poles. When locking to other infrastructure (such as, say, a stairway handrail), be considerate of others and also aware that building security employees sometimes remove bikes that seem hazardous.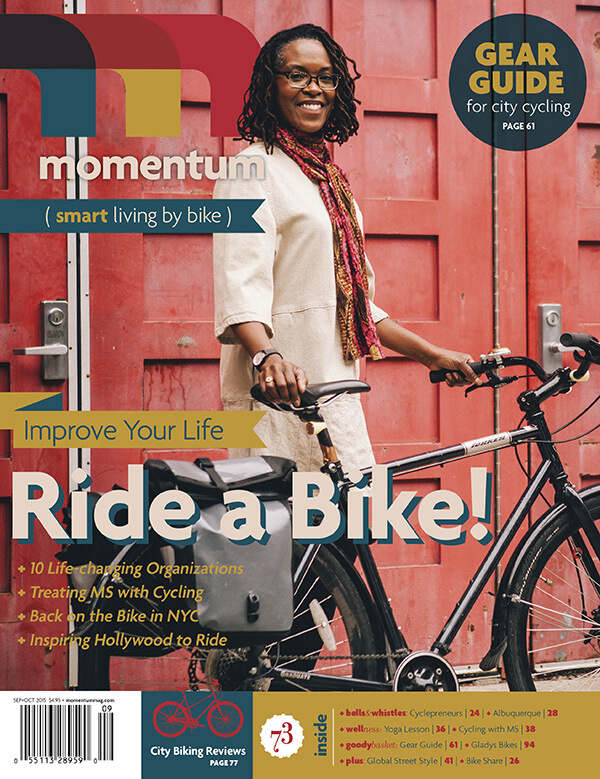 Try a free 1-year digital magazine subscription to Momentum Mag. Sign up today.
While locking up, make sure your lock actually goes through your frame – rather than, say, around your seat post, where it can be conveniently slipped off. (You may laugh, but it happens.) Consider also what to do about the parts of the bike that aren't secured by your lock. If your wheels and seat are easy to remove, try running your lock through a wheel as well as your frame and securing the quick-releasable elements separately or taking them with you. Riding home on a bike with no seat is embarrassing, and riding on a bike with no wheels is impossible.
Some folks prefer to lock up out of sight, while others favor well-lit, well-trafficked spots on the premise that it's stressful to try and subtly saw through a lock in front of a teeming crowd of pedestrians. Either way, position your bike upright and out of the path of cars. I've seen an SUV sweep up onto a curb and right over the wheel of a Schwinn locked to a bike rack; the wheel issued a haunting cry as it folded.
If you think you can't afford a good lock, ask yourself: Can I afford to replace my bike?
Tips to Help Keep Your Bike in Your Own Hands
Lock Types: Choose Wisely
My childhood bike lock was a sparkly pink cable combination lock the thickness of a drinking straw. At some point, I realized it could be snipped in half with a pair of elementary school scissors. (The combination could also be inferred by the loud clicking sound that the correct numbers made.) Such locks are largely symbolic gestures. Flexible cable locks are easy to use and good for locking to difficult structures, but they often fall into this "easy to breach" category. In Amsterdam, I watched an enterprising gentleman whip out bolt cutters and chop my much sturdier cable lock in two casual strokes.
U-locks are stronger, but their shape and inflexibility limits what you can lock to. (Side note: Watch out for old 'Bic-able' U-locks, whose round keyholes can be breached with the butt end of a ballpoint pen.) My personal favorite lock is an ultra-thick, heavy chain. It makes you look paranoid, but it's very effective.
Locking Etiquette
Good locking manners are mostly intuitive. Don't lock your bike to someone else's (unless you know it's OK with them, and they can get a hold of you when they want to leave). Avoid jamming your bike up against someone else's in a crowded rack or bike pile. Make sure your bike isn't blocking (or tangled up with) other bikes. And finally, be gentle if you lock to a tree – don't trample vegetation or gouge bark. That's a living thing, friend – treat it with respect.
Momentum Mag Shop
A curated shop with a distinctive mix of bike gear and clothing worthy of the urban rider.
Shop Now