October 29, 2015
Yakima SpareTime Bike Transport Rack Review
We review the Yakima SpareTime, a 2-bike transport rack for cars with rear spare tires.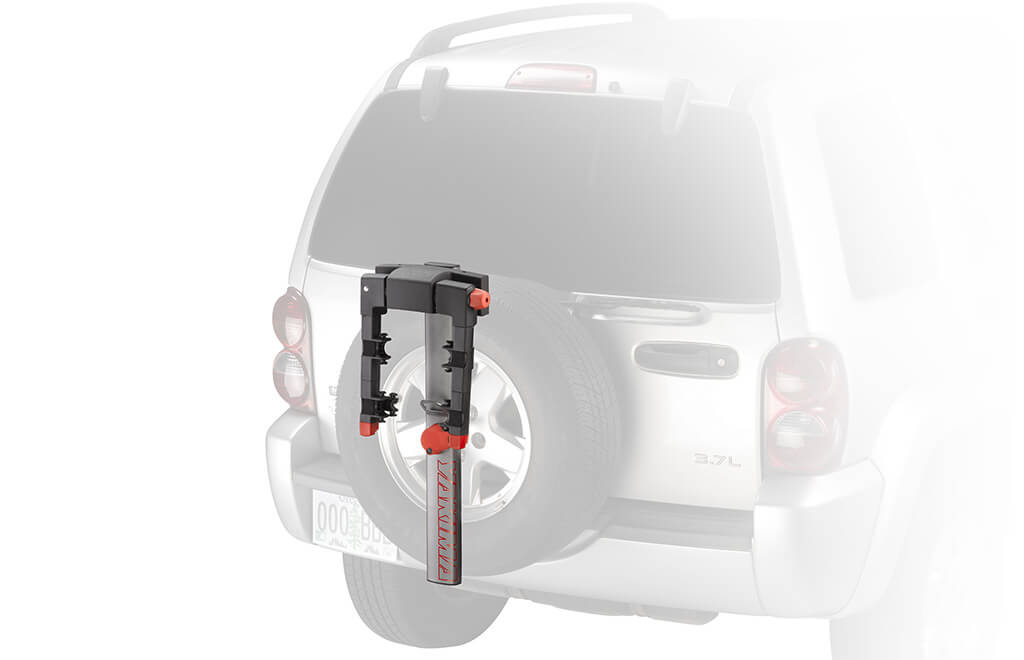 PRICE $280 CAD / $199 USD
FIND IT AT yakima.com
For those with a spare tire on the back of their vehicle, the Yakima SpareTime will fit many models and allow two bikes to be carried securely on the rear. Using the Fit My Car menu on the Yakima website narrows down the search for compatibility.
TELL YOUR FRIENDS
You can lock the SpareTime to your vehicle, and you can secure your bikes to the SpareTime with the included cable lock. The rack folds down when not in use keeping protruding metal objects to a minimum on your vehicle.
WISH LIST
As the rack's point of contact with your bike is the top tube, it is suited for diamond frame bicyles with fairly straight (horizontal) top tubes. For $65.00CAD ($39.00USD), the Yakima TubeTop (not tested) is an accessory adapting step-through bikes with a seatpost / stem secured 'faux top tube' for transport. The cradle of the rack you rest the top tubes onto has less than six inches separating the two bikes, which may be tight for some as the bikes are mounted quite close togther.
SUMMARY
The Yakima SpareTime rack was easy to set up the first time and once the mounting plate is in place behind your tire, it's a tool-free install whenever you wish to add the rack. Seeing as it folds down quite compactly, I imagine it would go on in the spring and remain seasonally, without any distraction or hinderance to most rear doors. Simple, secure and effortless for carrying one or two bikes at a time, the SpareTime gets the job done without adding much length or hazard to your vehicle. Just take note of what type of bike you want to carry, and ensure it will be compatible with this rack.
---
David Niddrie is Momentum Mag's Creative Director. @DavidNiddrie
Autumn Gear Guide
Find inspiration in our Gear Guide that will keep you out on your bike through wind or rain.
Download Now