July 24, 2015
How To Bike While Pregnant
Tips for cycling while pregnant, it isn't impossible!
Congrats! You're newly pregnant, and are already daydreaming about hauling your future toddler behind you in a trailer, or on a bike seat. You look forward to sharing your love of biking and a healthy lifestyle with your child. However, at this stage, is biking while pregnant safe? Won't it get uncomfortable?
"The risks for a pregnant woman and their growing fetus related to bike-riding are much the same as the risks for anyone riding a bicycle, so pregnant women should take the same precautions that they normally would," says Candace Plohman, a registered midwife with The Midwifery Group in Vancouver. "Another risk specific to pregnancy is that a woman's centre of gravity shifts forward as her belly grows, and she has softened joints from the hormones of pregnancy, so it's sometimes easier to lose balance or sustain over-extension injuries. Any woman who experiences trauma to her pregnant belly in the second or third trimester should check in with her health care provider."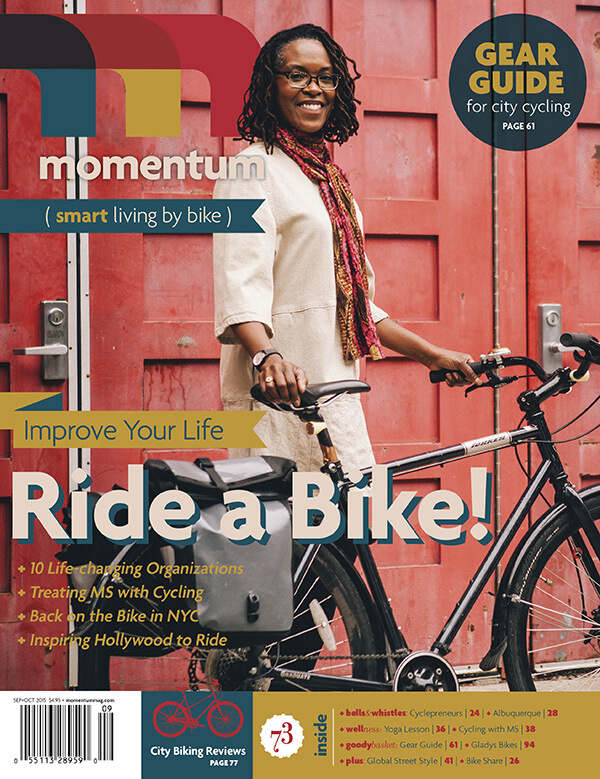 Plohman added, "Exercise should be continued in pregnancy in order to promote fitness and normal weight gain, regular activity helps to maintain a normal blood pressure, normal blood sugar levels, and overall physical fitness, which can be an advantage to any woman as they go into labour since labour itself is very physically demanding. Exercise also assists in promoting emotional well-being and managing depression. Cycling is a great form of physical activity in pregnancy."
Many women can't imagine giving up cycling, even temporarily. Said Sarah Dennis, a mother of one in Chicago: "Why did I ride throughout my pregnancy? Because I can't not ride. I'm addicted. During my second trimester, still feeling nauseous and exhausted all the time, I managed a few days a week for about a half hour, just for fun. I took the pace really easy and enjoyed the scenery."
Jessica Roberts of Portland, on the other hand, has been biking as her main form of transportation throughout her pregnancy. She said, "For me, riding is one of the more comfortable things to do. It's walking that's the biggest problem, actually. Because it's so painful and slow; if I stop biking, I won't be getting any exercise. This is one very compelling reason to keep biking for as long as I can." She added: "As far as safety goes, I continue to do all the things I normally do to maximize safety. I use a mirror, choose low-traffic streets wherever possible, and communicate with drivers if I feel like it will help (by signalling turns and lane changes and making eye contact)."
In her blog, Girls and Bicycles, Sarah Chan of Edmonton wrote about cycling during her recent pregnancy. "In my opinion, I thought it was healthiest not to compromise the things I believe in," she explained. "It's not like I cruise the streets in some reckless fashion. I'm an experienced rider, and being on a bike makes me so happy! I think my physical resilience during pregnancy, labour, and in the days after having the baby was due to being healthy and active prior to."
As Roberts mentioned, there are many things women can do to make cycling more comfortable and safer as you move along in your pregnancy. A few of her tips for cycling while pregnant:
Adapt your bike so you can sit more upright and have room for that burgeoning belly. Move your handlebars up or install different ones.
Invest in a wider saddle for better support and comfort.
Switch from clipless to regular pedals if you're worried about getting out of them fast enough.
If you find your balance is affected, lower your seat height so your feet can more easily reach the ground when stopping and consider a step-through frame, or lean your bike to one side to get onto it.
For commuters, consider changing your usual route to incorporate less traffic-heavy streets and roads with designated bike boulevards.
Slow your pace and ensure plenty of time for getting to destinations.
Take extra precaution if riding through heavy rain, snow, or ice, or don't ride at all in bad weather.
If possible, consider switching to an upright model such as a Dutch or cruiser bike.
Above all, pay attention to your body. Every woman is different and every pregnancy is different. Whatever your situation, you needn't give up biking altogether. With some common sense, listening to your (ever-expanding) gut, and some tips and tricks, you'll be riding safely and comfortably in the weeks and months ahead.
---
Dana Bidnall enjoys riding in and around Vancouver on her 14-year-old Trek and works for a local car-sharing organization.
This article was originally published in 2009 and has been updated. 
Autumn Gear Guide
Find inspiration in our Gear Guide that will keep you out on your bike through wind or rain.
Download Now