August 29, 2016
Ortlieb Sport-Roller Front Pannier and Back-Roller Pro Plus Bicycle Pannier Set Review
A complete waterproof kit for touring or serious urban commuting.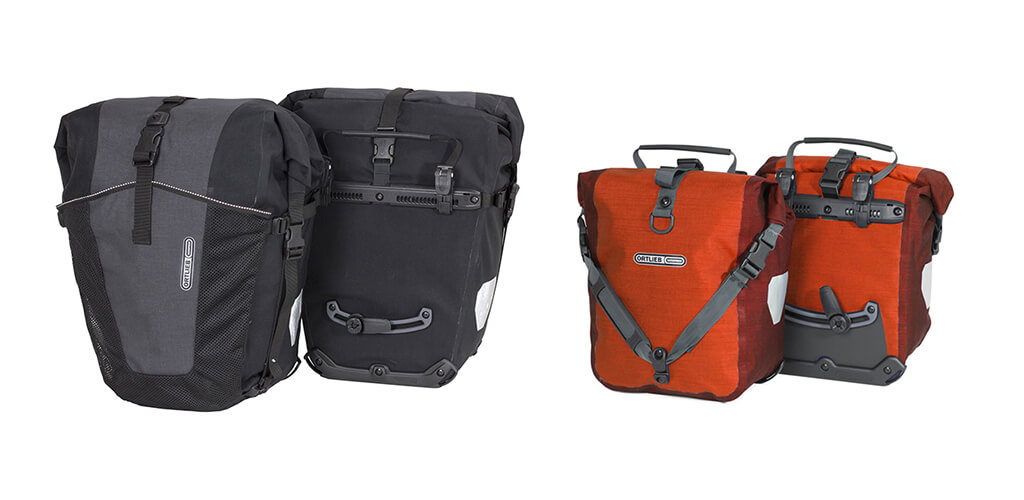 Back-Roller Pro Plus Rear Panniers
PRICE $250 USD per pair
FIND IT AT ortliebusa.com
Sport-Roller Plus Front Panniers
PRICE $180 USD per pair
FIND IT AT ortliebusa.com

Ultimate 6M Plus Handlebar Bag
PRICE $125 USD
FIND IT AT ortliebusa.com
The set we reviewed is comprised of the Back-Roller Pro Plus rear panniers, the Sport-Roller Plus front panniers, and the Ultimate 6M Plus handlebar bar. The Back-Roller Pro Plus are available in Signal Red Chilli and Granite-Black; the Sport-Roller Plus and Ultimate 6M Plus are available in Signal Red Chilli, Granite-Black, Lime-Moss, and Denim-Steelblue.
TELL YOUR FRIENDS
As a complete set, this setup is amazing. As individual products, each is amazing. Whether you're looking for a completely new matching kit, or you're just looking for a new set of front or rear panniers or a handlebar bag, you really can't go wrong with anything in this line. Let us break it down for you:
On the panniers, the attachment system is really simple and easy to use. Ortlieb has been dialling in on the details for years and the result is the QL2.1 system, an ingenious mounting system with self-closing hooks and an adjustable lever to fasten the panniers down securely to almost any rack. It takes about 30 seconds to adjust the bottom lever the first time, but once you've adjusted it to your rack, mounting them takes seconds and is so easy you don't have to think about it. Then to remove them, you literally just lift them up.  By lifting the handle, you unlock the self-locking hook and the panniers just slip off the rack.
For the Back-Roller Pro Plus, let's just get this out of the way, these things are huge. They have a combined volume of 70 litres, making them the world's largest waterproof pannier. This could either be a blessing or a curse depending on how you look at it, but in our case it has been a blessing. I frequently bike tour with two kids, young kids. This means that all of the things young kids need to stay clothed, fed, comfortable, and entertained need to be carried by myself or my husband. With these babies, you can basically bring your entire house. The exterior pocket, a recent addition to Back Roller line, offers 4 litres of non-waterproof space that comes in handy for carrying anything you don't want to put (or can't fit) into the bag. Wet bathing suits, sandy items, bear spray, oddly shaped items like tent poles or a yoga mat – all of this can be slipped into the exterior pocket and accessed easily. It's a fantastic upgrade.
Both sets of panniers are incredibly rugged. The roll top closure means they always close cleanly, and function like a dry bag. You could toss them into a lake and your laptop would be fine. I like that the straps are always tucked up, they have a nice clean feel to them. The structured base is also a great design feature, they can stand up independently.
The Sport-Roller Plus has basically all of the same benefits of the Back-Roller Pro Plus, minus the exterior pocket and quite a bit of space. At 25 L combined volume, they make either a small rear pannier set, or a perfectly-sized low-riding front pannier set. I like to keep my toiletries and rain gear in these bags with extra room for snacks and food you buy throughout the day. While you would be hard pressed to overstuff the 70L bags, the 25L capacity of the front set sets a reasonable upper limit for what you're able to carry.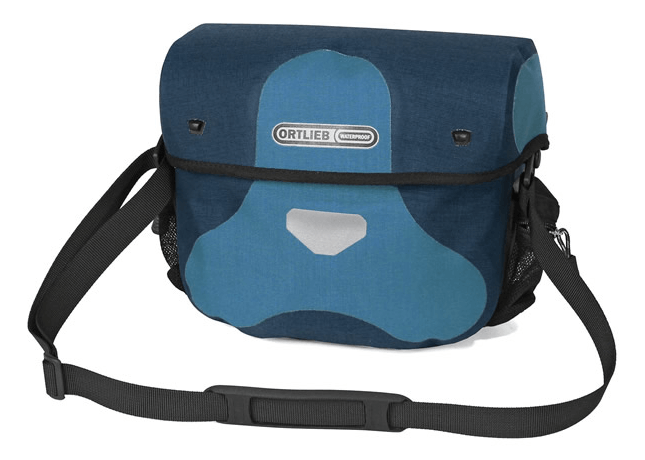 The Ultimate Six Plus is one of the best handlebar bags I've come across, either for touring or for use in the city. You can fit a really surprising amount of stuff into it, it has 7L volume but looks like it's only about 4L. The magnetic closure is amazing, it closes easily and stays securely shut but then whenever you want to get your stuff you just lift the lid, no messing around with zippers or buckles. The dividers enable you to separate your sunscreen from your electronics, or you can remove them if you find they get in the way. Like all Ortlieb products, it's waterproof, which is great for bike touring or for toodling around the city with a phone or camera in a heavy rain. You can lock it on to your handlebars, which is another great feature for its use in urban settings. Since it's so spacious, you can just lock it onto your handlebars, toss your purse into it, and basically use it like a basket.
On all three, the Cordura fabric adds a lot of versatility in terms of their touring/ urban functionality. While they're still decidedly on the sportier side of things, the Cordura is much more subdued than the coated polyester used on Ortlieb's other roll-top panniers. If you're only going to buy one pannier set and you want to be able to transition them in and out of the city, this line's design blends in much better on city streets.
WISH LIST
In terms of their urban functionality, neither set of panniers is particularly elegant to carry. The Sport-Roller Plus have a shoulder strap, but using it like a shoulder bag isn't super comfortable with the hooks that hit your hips or legs. The Back-Roller Pro Plus enables you to roll up the straps and clip them together at the top so you can carry them like a briefcase, but a packed 35L briefcase is not a very viable day bag. That said, Ortlieb has a carrying system which enables you to convert any of their panniers into a backpack in under a minute. It's a $37 USD extra, but if you're going to use these panniers in the city and you do any amount of regular walking around, I would say its a necessity. For touring, this is also great for day hikes. Let's get real, if you want to only own one set of waterproof panniers, this is a great set to invest in otherwise, Ortlieb has a pretty solid urban panniers you should check out for everyday biking use.
The handlebar bag doesn't come stock with a map case. I tend to navigate by phone so this didn't bother me, but the $25 extra for the map case could be a deal-breaker for somebody who likes to navigate old school and isn't trying to spend much money.
Beyond that, I really don't have any bad things to say about any of these bags. Ortlieb has been perfecting and re-perfecting their design for years and the result is a set that leaves little wanting.
SUMMARY
If you're going to do some serious touring and you're also going to do some serious urban commuting and you only want to buy one set of panniers, these things shine in the country and function well in the city, especially if your city is nicknamed "Rain-couver."
The Back-Roller Pro Plus won't be necessary for most people, many could get away with the 40L Back-Roller Plus, but if you're going on a world tour or frequently bike camp with kids, the big ones are a game changer. In the city, they pull double duty as a way to haul home a week's worth of groceries.
I've long been a non-believer in handlebar bags, but since getting the Ultimate Six Plus, I can't remember how I ever previously lived without one. My husband has since stopped using panniers at all on workdays, as he can fit everything he needs for the office into the handlebar bag.
The complete set is an investment for sure, but you'll get years and years of good use out of these things. Worth every penny.
---
Tania Lo is the co-publisher of Momentum Mag. She commutes year-round by bike in rainy Vancouver and goes on frequent family bike camping trips. 
Autumn Gear Guide
Find inspiration in our Gear Guide that will keep you out on your bike through wind or rain.
Download Now