October 21, 2015
The 2016 Novara Corsa Donna is All About Simplicity
REI launches their 2016 model Novara Corsa Donna, which features SureStop 1-lever brakes and a fancy new paint job.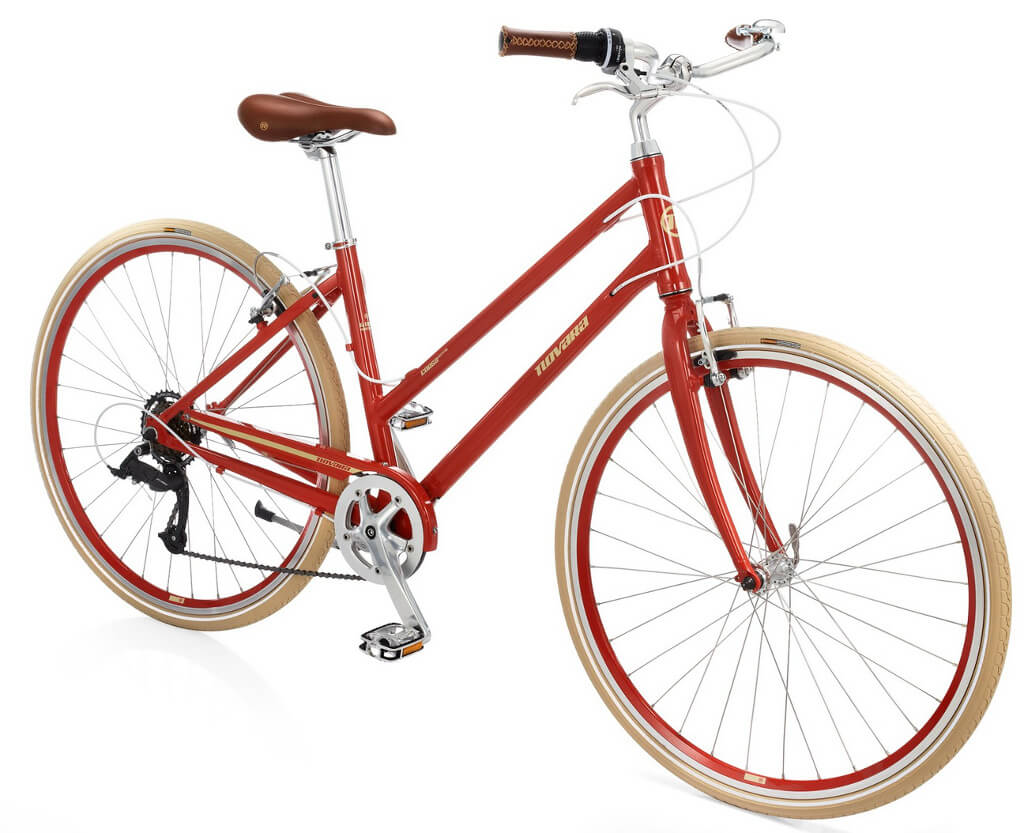 REI recently launched the 2016 version of their house brand's city bike, the 2016 Novara Corsa Donna. The Corsa Donna is an overhaul of 2015's Corsa. It maintains the relaxed, upright city riding position of the Corsa, but now features a step-through frame and a snazzy new paint job, along with a few other bells and whistles.
The Corsa Donna bridges the gap between a more athletic ride and a leisurely cruise, making it well-suited to city streets and the occasional gravel path. It has an aluminum frame, aluminum fork, low-rise mustache handlebars, and 7 gears to get you anywhere you need to go. It's set up for fenders and a back rack, and comes with a kickstand.
Perhaps the most notable feature of this bike, though, is that it's fitted with 1-lever SureStop brakes. Don't know what those are? We didn't either. We encountered this innovative braking system at Interbike and we think it's pretty cool.
SureStop integrates both the front and back brake function into on handle, so you can never pull one without the other. It's a pretty simple system: The rider pulls the single brake lever to engage the rear brake against the rim, and as the rear brake engages, the patented Slidepad slides forward to pull the front brake cable which then engages simultaneously to stop your bike. This process means that it becomes easier to react in an emergency, and prevents you from having Head-over-Handlebar incidents or skidding out.
For a bicycle designed with simplicity in mind, the SureStop is a great tech addition. The Corsa Donna isn't a racing bike, it's a bike for enjoying life. A bike that lets you cruise around with a coffee in one hand and the other on the brake without worrying about pitching your latte (or yourself) over the handlebars whenever a squirrel cuts you off.
The Corsa Donna will only be available from REI, and comes in two sizes: XS/S, and S/M. It is available in Pepper Red, for a very reasonable $499 USD. The Novara Corsa Donna allows the city rider to get where they need to go, while enjoying the ride on the way.
Autumn Gear Guide
Find inspiration in our Gear Guide that will keep you out on your bike through wind or rain.
Download Now