August 4, 2015
3G Bikes Ladies' G'Linda Single Speed City Bike Review
We review the 3G Bikes Ladies' G'Linda Single Speed City Bike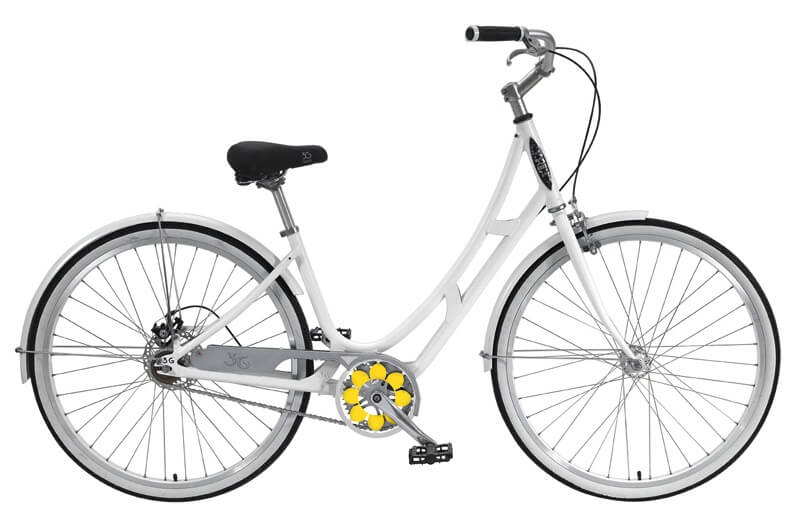 PRICE: $499.00
FIND IT AT: 3gbikes.com
3G Bikes' G'Linda is a single speed upright city cruiser with swept back handlebars available in four different colors (matte black, white, pastel green and baby blue). It has a very low step through frame and is equipped with matching fenders and a matching chain guard. The G'Linda has a Pro Wheel 3pc Crankset and a Shimano Freewheel rear hub. Its frame is made of light but sturdy aluminum, and it has a black 3G comfort seat and double density black rubber ergo grips.
TELL YOUR FRIENDS
I got so many compliments while I was riding this bike! I rode around on the baby blue version and it was nice. For a bike that looks so cute, it functions really well also. The ride was incredibly smooth on any terrain. I loved the addition of a flower crankset cover on this bike because the pedals moved as I peddled! For a single speed city cruiser, this was a comfortable ride on my daily commute, but worked well for me on hills and even on a 28km bike trip! It came with a very cushy stock seat, so even after a long trip like that I didn't feel sore.
WISH LIST
I tried multiple back racks on this bike, but the brakes prevented me from being able to attach them. As a rider who takes her bike on errands like grocery shopping, this was definitely my main issue with the bike. Overall I liked the bike, but all of the details are very girly, so be prepared if that's not exactly what you're into to feel really adorable all the time as you ride around.
IDEAL RIDER
Because you can't attach a back rack easily to this bike, I'd recommend it to the leisurely rider. It worked well for me on the occasional lengthy ride, commuting to and from work, and doing errands, but a back rack can be key for carrying all your stuff on any of these kinds of rides. Someone who wants to get noticed riding to friends' houses or for fun around their city will like riding this bike.
SUMMARY
Overall, this was a really nice bike to cruise around on over the weekend, but I wouldn't choose it as my everyday bike. I tend to prefer something a bit speedier and again, not being able to attach a few different back racks is an issue for me. It's really quite a smooth and sleek ride, though, and is definitely a beautiful bike, so a rider looking for something pretty to compliment their style would absolutely enjoy the G'Linda.
---
Shannon Murray is an everyday rider who is currently enjoying the warm summer weather in Ottawa, Canada. In her spare time, she loves singing, playing guitar, and taking photos. flickr.com/focuspocusphotoart
Autumn Gear Guide
Find inspiration in our Gear Guide that will keep you out on your bike through wind or rain.
Download Now