February 27, 2015
Osprey Spin 22 Backpack Review
Momentum Magazine reviews Osprey's Spin 22 Backpack.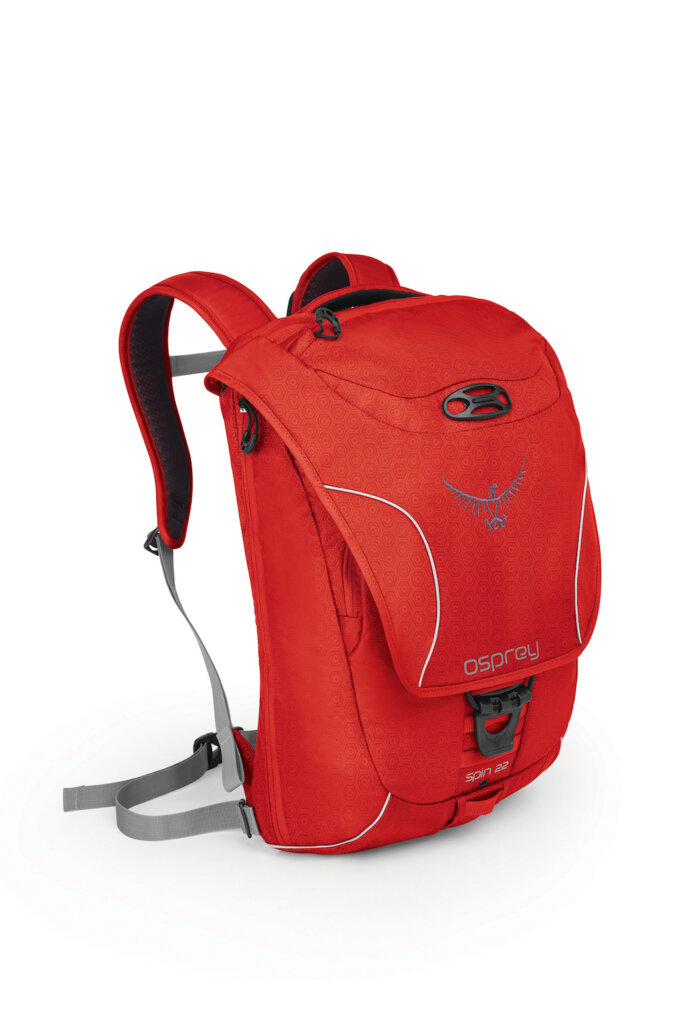 PRICE $140 USD
FIND IT AT ospreypacks.com
The Osprey Spin 22 is a medium capacity, top loading, flap style day pack. The backpack offers 22L of storage. It is comprised of 420HD heat embossed nylon and 600D pack cloth.
TELL YOUR FRIENDS
I have been a commuting biker for over 8 years, yet I have never had a proper "biking" backpack. I will never go back to owning a simple "cheap" now that I have used the Osprey. It is fantastic. It's a cool, trendy, and practical backpack with attitude!
The bag itself is very comfortable to wear, the straps are thick and easily adjustable. The back of the bag is slightly curved making it effective for any style of biker, including road bikers who are more bent over in posture. There is also a light mesh material that runs down the back of the bag, which helps to keep your back cool on a long bike ride.
The bag is made with a durable water and weatherproof material, perfect for biking in the rain. There is a handy rain-cover in the top of the bag that is easily expanded over the bag to protect from rain or snow. The cover is also bright yellow with reflectors, therefore more easily seen on cloudy days, or nights.
When you open the flap of the bag there are multiple pockets in the front, middle, and back sections of the bag. In the front there are pockets for your small belongings such as keys, pens, wallet, etc. The main compartment (which can be made bigger by the zips on the outside) is of decent size. I use it mainly for my laptop, clothing, and maybe shoes. It can carry a lot at once. There are also back pockets in the main compartment, which are handy for flat objects. I have carried photographs in these pockets, which managed to stay unaltered throughout my ride.
There is a waist strap that I recommend wearing as it helps keep the shape of the bag while riding. The strap is also fully adjustable depending on waist size.
WISH LIST
I loved this bag and have used it pretty much every day since receiving it. I have really gotten to know the product and use it in my everyday life. On occasion, the opening of the bag is slightly frustrating as it is a huge flap that covers the main body of the bag. It is a great rain cover, but if you're in a rush it can take slightly longer to open and close compared to a zipper bag.
SUMMARY
I think Osprey has made a very durable and comfortable biking bag. I would recommend it to anyone who does not carry too much and needs a lightweight, durable backpack. It is great for biking all year round in rain or shine.
REVIEWED BY
Lily Holman, is a full time chef/ photographer and lives in the beautiful city of Vancouver. She is an avid biker and has been for many years, both commuting to work and for fun.
Autumn Gear Guide
Find inspiration in our Gear Guide that will keep you out on your bike through wind or rain.
Download Now