May 12, 2015
Schwinn Allston 1 Eight Speed Bike Review
Momentum Mag reviews the Schwinn Allston 1 Eight Speed Bike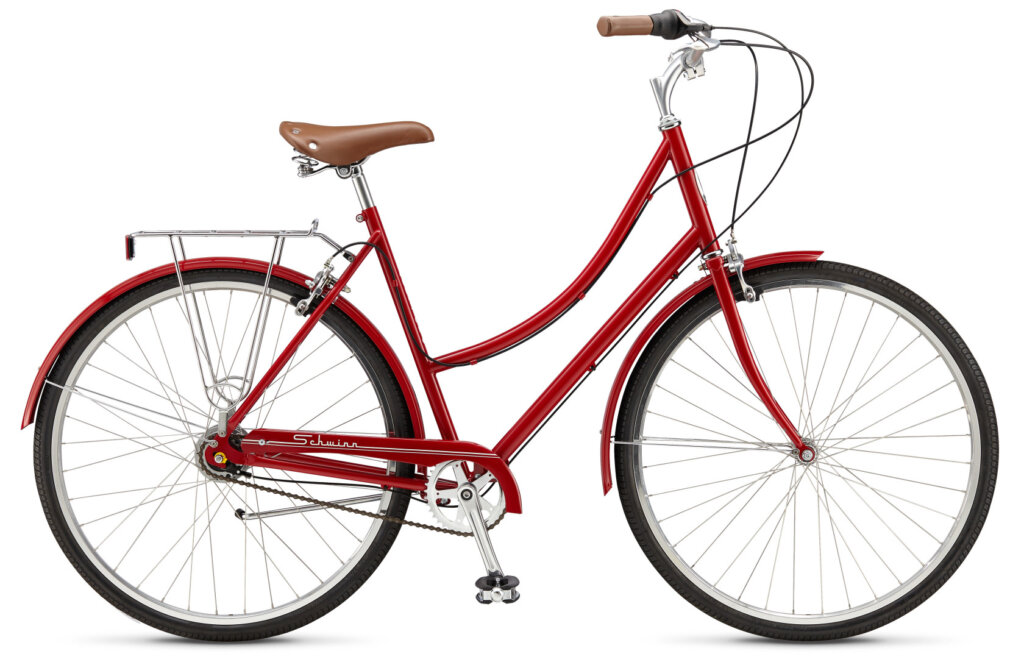 PRICE $599.99
FIND IT AT schwinnbikes.com
The Schwinn Allston 1 is a 38 pound (17 kg) bike, and is a comfortable upright ride.  As it's already equipped with a kickstand, matching red fenders, a classy synthetic leather brown seat with matching kraton rubber handlebar grips and a rear rack, there's no fussing about getting around to adding all of the features that make life on a bicycle easier. An 8-speed Shinamo Nexus internal hub and a chainguard also make this bike prettier, more functional no matter the incline, and more maintenance-friendly.
TELL YOUR FRIENDS
With retro Dutch-style good looks and a bright red paint job, The Schwinn Allston 1 was a beautiful bicycle to experience my daily commute on. I ride to work mostly along the seaside, and the relaxed riding position this bike offered made for an extremely comfortable biking experience. It might have been too comfortable at times..I could honestly zone out and close my eyes and nap on this thing. I love a step-through frame (even though I often seem to habitually swing my leg over the higher phantom frame I'm used to), and having a rear rack already installed on the bike made my life pretty simple.
WISH LIST
I knew what I was getting myself into with an 8-speed city bike like this, but my main complaint is that I wish this bike were lighter. Everything else about this bike was really great, but as I'm used to riding featherweight road bikes, this bike was a little too heavy for my taste. The seat also could have been a little comfier. Riding for longer than an hour or so could leave my cheeks a little sore, and I don't mean from smiling too much.
IDEAL RIDER
For anyone with a fairly short daily commute or anyone looking for a great bike to get around town on, consider this one. This bike was wonderful on my 15 minute commute to work, and would quite often prompt me to take the long way home, especially on a sunny day. I wouldn't recommend it to long-distance commuters as it is a bit heavy to move you along as quickly as a lighter bike would, but for a short commute, errands, or recreational rides, this bike is wonderful.
SUMMARY
Honestly, I've always wanted a classic red bicycle, and this one is not in the least bit tacky like some that I've considered in the past. With 8 speeds, it made even the biggest hill on my commute, our office's parking garage, an easy ride. I can see anyone who's looking for a relaxed and stylish ride falling deeply in love with this bicycle.  In three words, this bike was stylish, relaxing, and refreshing.
This Schwinn Allston 1 was generously put together by The Standard Bicycle Service & Repair in Vancouver, BC.
---
Shannon Murray is Momentum Mag's Product Coordinator in Vancouver, BC.  In her spare time, she loves singing, playing guitar, and taking photos.  flickr.com/focuspocusphotoart
Autumn Gear Guide
Find inspiration in our Gear Guide that will keep you out on your bike through wind or rain.
Download Now