June 19, 2015
Ten Fun Bicycle Date Ideas
These fun bicycle date ideas put a new spin on romance.
Is summer the season of love? The long, warm evenings and endless string of sunny days almost call out to you with the promise of new love interests or perhaps the rekindling of old flames. Whether you're giddy with anticipation for that first kiss or looking to spice things up for a milestone anniversary, a great date can help make the moment all that more memorable. Long walks on the beach are fine, sure, but why walk when you can ride? Summertime is all about adventures, and what's more fun than bicycle adventures? Get the wheels spinning in your love life with these fun bicycle date ideas.
1. Have a romantic picnic
What could possibly be more romantic than a candlelit picnic in the park as the summer sun fades into sunset. Bring a bottle of wine, a blanket to cozy up on, and your favourite shareable snacks (chocolate-dipped strawberries anyone?) for a summer evening tryst beneath the trees. With the wide range of pannier and basket options now available, including pannier coolers specifically for moments like this, going for a bike picnic has never been easier. Check out our guide How to Plan a Bike Picnic in 15 Minutes if you're looking for a little inspiration.
2. Go high stylin'
It's nice to get dressed up every once in a while. Like, really, really dressed up. If you want to go on a fancy date but you lack the occasion, just invent one. You don't need tickets to the opera or dinner at the fanciest restaurant in town as an excuse to go glam. Fun is your excuse! Throw on your Sunday best (yes, you can bike in a suit!), get your date to do the same, and go for a pleasure cruise dressed to the nines. Turn heads in the bike lanes, hold hands as you pedal through the park. Pack a bottle of bubbly in your pannier and cap the evening off with a toast to yourselves, you look fantastic!
3. Go on a bicycle brewery tour
In today's ever-changing cultural landscape, the norms by which our grandparents' generation did the courting dance no longer universally apply. Once the dominion of Parisian sidewalk cafés and clinking glasses of Pinot Noir, romance itself has taken on new meaning in the modern world. These days, romance occasionally wears a flannel shirt and drinks flights of craft beer at a local microbrewery. So if your date night idea of "bubbly" is more IPA than Veuve Clicquot, map out a few great breweries along your local bike routes and pedal away. Checking out your local craft beer scene is easiest by bicycle since you can hop between breweries without worrying about taxis or transit.
4. Bike to a street festival or fair
One of the best things about summer in the city is the way the streets seem to come alive. It seems like you can't walk out your door without accidentally stumbling upon a street festival. Check your local paper for event listings and use your date as an excuse to attend an event you wouldn't normally go to. Maybe a neighborhood fair in a new part of town or a food fair for cuisine you've never tried before. Many festivals now offer free or secure bike parking, and if it's a smaller event, finding parking is only as difficult as spotting the nearest pole to lock up to.
5. Bike to the farmers' market
Grocery shopping doesn't exactly scream "romance". But by visiting your local farmers' market, you can turn a regular old chore into a fun morning or daytime date. Peruse the stalls for fresh, local fruit and veggies and come up with a meal to cook together later. Have a market fresh lunch while you plan your recipe, before heading home with panniers and baskets filled with delicious goodies. Check out How to Shop by Bike if you're unsure how to cart your carrots and kale around on two wheels.
6. Go to an outdoor concert or show
While the heyday of the drive-in movie has all but faded, outdoor entertainment in general is on the rise. From large outdoor stadiums to small, intimate venues in the park, more and more entertainers are moving their shows outside as people come to recognize the beauty of great art under an evening sky. Most cities offer concerts, theatre, and other shows in outdoor venues throughout the summer. Many also offer free events with no barriers, so you can pack a blanket in your basket and ride right up to the sloping lawn to settle in for the show.
7. Three course meal in three places
Did we mention how convenient bicycles are? Without having to worry about parking, transit, or taxis, you can turn date night into a city-wide culinary tour. Head out for appetizers at that tapas place in old town before cruising on for a main course at that Cajun restaurant you've heard so much about. Work up an appetite for dessert by biking across town to that cute café with the great cheesecake. If you still have room left at the end of your foodie bike tour, finish the evening off with a nightcap at that funky bar down the street that you've been meaning to try.
8. Rent a tandem bike
Have you always wanted to try a tandem bike but never had the excuse? Well now you do! Pedaling a tandem bike is all about cooperation, and what's more cooperative than a relationship? Head down to your local bike rental shop and pick out the perfect bike for lovers.
9. Go on a city bike tour
Whether you're new to town or have lived their all your life, a city bike tour can be a great way to check out the attractions from a fresh perspective, and maybe learn a few things you didn't know in the process. With city bike tours around the country offering everything from tacos tours to night rides good old fashioned historical tours, you'll be sure to find something you can your date will love. Check out our growing list of North American city bike tours to find a fun tour near you or look to see if there's a tour company in your city.
10. Go on a scenic bicycle adventure
There's something to be said about good old fashioned sightseeing. No fuss, no complications, and no cost! Head out to your favorite viewpoint, or even better, map out a few viewpoints you'd like to check out along scenic bike routes. Enjoy the simplicity of just spending time together in the great outdoors.
---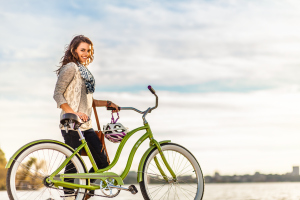 Share a cup with Schwinn! Schwinn bikes is America's most iconic bike brand; making bicycles for 120 years! Schwinn creates products that make it simple, easy, and fun for everyone to experience the freedom that comes from riding a bike. Visit us at schwinnbikes.com to check out some of our featured products and latest blog posts.
Autumn Gear Guide
Find inspiration in our Gear Guide that will keep you out on your bike through wind or rain.
Download Now